If you have a child with attention deficit hyperactivity disorder (ADHD) or teach students with ADHD, you understand how learning at school can be difficult. You can help students with ADHD — whether you are a parent or a teacher. Talk to the other important people in their life, pay attention to how they interact with peers and create a structure so the student learns to build a routine.
Certain types of toys are specifically designed for students with ADHD or sensory processing disorders. Many schools and educators are open to children using fidget toys and gadgets during the school day to help keep them focused. Having these toys available in the classroom or buying toys for your child to bring to and from school can aid them in their academic journey.
Continue reading to discover some of the best fidget toys for managing ADHD in the classroom.
Difficulties Children With ADHD May Face in School
Children with ADHD might experience more challenges in school than children without ADHD. Many schools have procedures to assist children with learning, such as giving students a distraction-free place to take exams. However, children with ADHD can still have difficulty in school. Some challenges might include:
Lack of physical activity: Besides the allotted recess time, children stay seated for most of the school day. Stillness can be difficult for some students with ADHD, for whom physical activity can be vital.
Trouble staying focused: Students with ADHD might struggle to focus for long periods, making classes and homework challenging.
Difficulty finishing work: Some students with ADHD may face challenges finishing their work due to distractions.
Being too talkative: Some students with ADHD might talk too much or be disruptive in the classroom.
Bonding with other students: Some children with ADHD might experience difficulty making friends at school. Children who are inattentive might seem shy to other students, while students experiencing hyperactivity might be met with disdain or aggression.
Additionally, ADHD often occurs alongside other conditions such as learning disabilities, anxiety and depression, all of which can make school more difficult.
The 7 Best Toys for Managing ADHD in the Classroom
Aside from any systems already put in place by the school, there are ways to help children with ADHD be successful in school. Sensory toys may help students experiencing ADHD or anxiety in the classroom. You might find the following list of toys effective for classroom use:
1. Classroom Fidget Kit
Fidget toys help classroom focus. The Classroom Fidget Kit comes with various fidget toys for individuals with ADHD meant to help any student. This option is a good choice for teachers because it provides many different options for fidget toys. The toys also come in a convenient bag for easy portability and classroom storage. Children can use fidget toys during storytime, while waiting for other students to finish an exam, during a lesson or in other parts of the day requiring more focus.
 2. Textured Marble Fidget Board
Moving around the marbles on a Textured Marble Fidget Board provides exploration and tactile learning. This fidget toy is special due to its unique design. It is colorful and glossy, adding a visual element to its tactile quality.
The colors and mirrored elements can have a calming effect on students who feel overwhelmed during the school day. Playing with fidget toys is also beneficial for children with anxiety, as it keeps their hands occupied during moments of stress.
3. Oral Motor Chew Sets
Chew tools are created specifically for use in therapy. They especially benefit children who crave chewing or children with oral motor problems. However, they can also be helpful for students with ADHD and can be used — with the teacher's permission — in the classroom.
Chew Sets can help with breath control and muscle tone. These toys come in three levels — soft, medium and hard. Chew sets may be helpful for students with ADHD in the classroom if they experience distractedness even while their hands are occupied, such as during an exam or while taking notes.
4. Weighted Handwriting Glove
A Weighted Handwriting Glove can provide support and compression for students with ADHD who need to build fine motor skills for writing or self-help activities. This glove comes in sizes small, medium and large, and is made of soft cotton spandex with a weighted pouch that rests on the back of the hand. Items with compression can be comforting for kids with ADHD experiencing discomfort in school. Compression is also sometimes helpful for students experiencing anxiety.
5. Cuddly Mimbleballs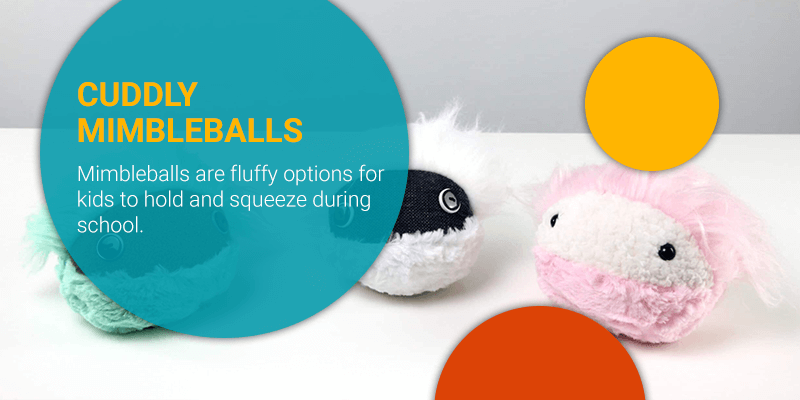 Mimbleballs are fluffy options for kids to hold and squeeze during school. These little buddies are soft and comforting and come in pink, white and green. They also have fun frizzy hair and adorable button eyes. Mimbleballs are machine washable, making them a perfect addition to your home or classroom. They're also sure to put a smile on a kid's face during gloomy or stressful days!
6. Ball Chairs
Ball Chairs are great for any child who has difficulty sitting still for prolonged periods of time. As a bonus, they also help with posture and balance. The chairs stay in place using locking casters, making them equally safe and effective.
You can put one of these chairs at your child's desk at home so they can stay occupied while doing homework in the evening. If you're a teacher, you can outfit your classroom with one or two of these chairs that students can use as needed.
7. Activity Wall Panels
One of the most stimulating toys for individuals with ADHD is an activity panel. Activity Wall Panels can add a fun and stimulating element to the classroom. These panels are solid wood, and you can choose between a horse, zebra or frog design, or you can mix and match so students have different choices! Each animal has different activities that help students develop eye-hand coordination, motor skills and cognitive skills.
All the different options come with different activities — kids will find new ways to play every time! Additionally, these wall panels help encourage children to play together. The ability to develop fine motor skills while playing with other students is important for students with ADHD, who sometimes face difficulties making friends in the classroom.
The Toys From Enabling Devices Can Help Your Child Focus at School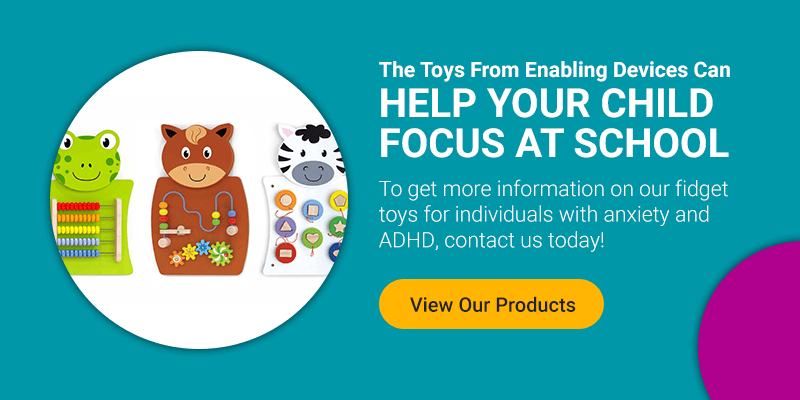 At Enabling Devices, we work with therapists, teachers and parents to create tools and toys built to make life more joyful for people with disabilities. We have more than 40 years of experience and are dedicated to working together to make devices that are useful, fun and innovative.
If you're a parent or teacher looking to make a child's schooling experience more enjoyable, we've got something for you. To get more information on our fidget toys for individuals with anxiety and ADHD, contact us today!