Toys allow children to have fun, but they can also do so much more. Some toys are designed to help children develop their five senses, while others help children with specific tasks. If you teach a class of students with special needs, adding certain types of toys to your lesson plans or classroom setting can help your students relax, focus better and develop their fine motor and communications skills.
Toys for Increasing Focus
Children learn more effectively when they can pay attention to the instructions and focus on the lesson. Certain types of movement may improve some children's concentration and focus. Enabling Devices offers several types of toys for improving focus, including Sensory Kits. The following toys can help students with special needs concentrate better in a classroom setting.

1. Classroom Fidget Kit
Fidgeting gives the body the chance to burn off excess energy. Redirecting some of a child's fidgety energy can help enhance their learning. Several studies have examined the impact fidget toys have on children's test scores. One study found a 10% increase in scores when students used fidget toys.
Fidget toys do more than help redirect a child's energy. They can also help children develop fine motor skills and dexterity. Playing with these toys may help lower children's stress and anxiety levels.
The Classroom Fidget Kit includes a variety of toys to meet the sensory needs of each student in a classroom. The toys are packaged in a handy tote bag for easy storage and transport.
Inside the kit, you'll find:
Fidgipod
Gel Bead Balls
Rainbow Pom Balls
Desk Buddy Sensory Bars
Figer Squash It
Water Snakes
Tangle, Jr.
Sensory Stixx
Pop Tubes
Pencil Finger Fidgets
Squish Disks
Wood Fidget Puzzles
The kit contains two of each type of toy.
2. Twiddles
Twiddles is a cuddly and soft toy that children can wear around their arm like a sleeve. The Classic Twiddles has a soft fringe and marble pouch. We've added vibration, which provide additional sensory stimulation.
Twiddles is machine washable and can be put in the dryer, as long as you remove all of the attachments and battery packs first. You might want to purchase several so students can use the toys when they feel stressed or have trouble focusing during class time.
3. Gel Lap Pad
The Gel Lap Pad contains a sparkling, colorful gel that helps children focus and self-soothe. During classroom instruction, children can hold the pad on their lap and push into the gel to redirect their energy, improving their concentration.
The lap pad is easy to clean and contains a nontoxic gel.
4. Weighted Puppy
Weighted toys can help children concentrate while also helping calm and soothe them. The Weighted Puppy wraps around a child's shoulders and neck. The gentle pressure from the cuddly pup helps improve children's attention and concentration.
The weighted puppy is microwave-safe, so you can gently heat it for use as a hot pack. It can also go chill the freezer to use as a cold pack.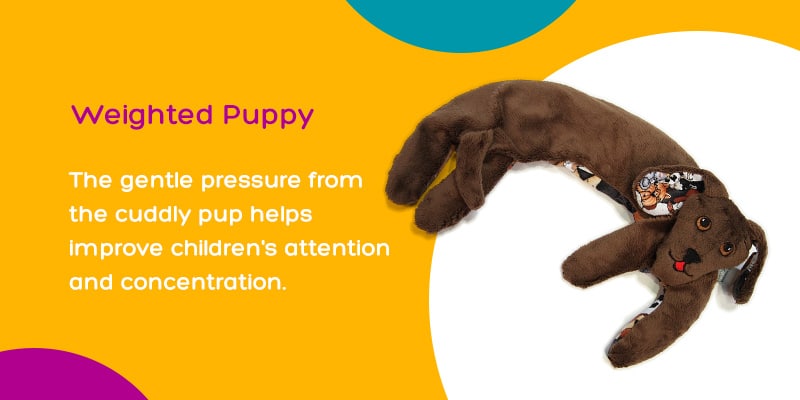 Toys to Help With Sleep
Children with special needs might have difficulty sleeping, whether at home or during classroom nap time. Fortunately, there are several toys available that may help calm and soothe them, making it easier to fall asleep.
1. Tranquil Turtle
The Tranquil Turtle is a soft, soothing friend a child can bring to bed or naptime. The turtle has a light-up shell that produces wave-like motions. It also makes soothing sounds similar to an ocean breeze. In a darkened room, the turtle's lights and sounds help create a calm atmosphere.
You can adjust Tranquil Turtle's volume, brightness and movement to create a sensory experience customized to each child.
2. Twinkles to Go Octo
Twinkles to Go Octo is an adapted illuminator that projects stars and fish onto the walls of your classroom. There's one switch that turns Twinkles to Go on and off. A second switch changes the color of the lights. The switches are sold separately.
Twinkles to Go can be ideal as a soothing toy for children with a fear of the dark. The illuminator stays lit for 45 minutes before shutting off.
3. Weighted Blankets
Weighted Blankets have long been used to help children with sensory processing disorders. The blankets create a sensory experience that many children find calming. The gentle pressure creates a calming effect, which can help reduce feelings of anxiety and stress in children. In some cases, a weighted blanket at nap or bedtime may help reduce the occurrence of nightmares and night-waking.
When choosing blankets, it's important to pick the weight appropriate for a child's age and size. Blankets that are too heavy can be overstimulating for some children. Weighted blankets are generally considered safe for children age 4 or older who weigh more than 50 pounds.
Toys to Help Relax
Some children with autism can become over-stimulated following a change in routine or in triggering environments like loud areas or places with a lot of sensory stimulation, such as strong smells. The best relaxing toys for children with special needs help them avoid a meltdown or other behaviors such as self-stimulation.
1. Bubble Tubes
Bubble Tubes help create a relaxing atmosphere at home or in a classroom. The tubes vary in size but are typically water-filled cylinders that produce bubbles to help children relax and focus. Some tubes play soothing songs while others produce a gentle hum. The tubes may also have built-in LED lights in various colors that children can change with the push of a button.
2. Tubular Vibrator
Vibrations can help children with sensory processing difficulties, specifically excitatory vibrations. Excitatory vibration is most beneficial for children with low arousal who need additional stimulation to stay alert and relax. One way to provide vibration is through a Tubular Vibrator.
The Tubular Vibrator is a soft toy that can wrap around the neck, arm or any other body part. It provides vibrotactile feedback that can either soothe or energize a child. It's available in adapted and unadapted versions. The adapted version vibrates only when the button on a switch is depressed. The unadapted version has an on/off switch.
3. Jellyfish Soother
The Jellyfish Soother is a cute and soft jellyfish toy that plays gentle music and ocean sounds. The Jellyfish Soother cycles through a rainbow of colors as it plays a four-minute melody. The soother is adapted for use with an external switch that activates the lights and music. It can also be used without a switch, as it turns on and off when the edge of the body is pressed.
The Jellyfish can rest on a tabletop or other surface. It also has a look so you can hang it from the ceiling or wall.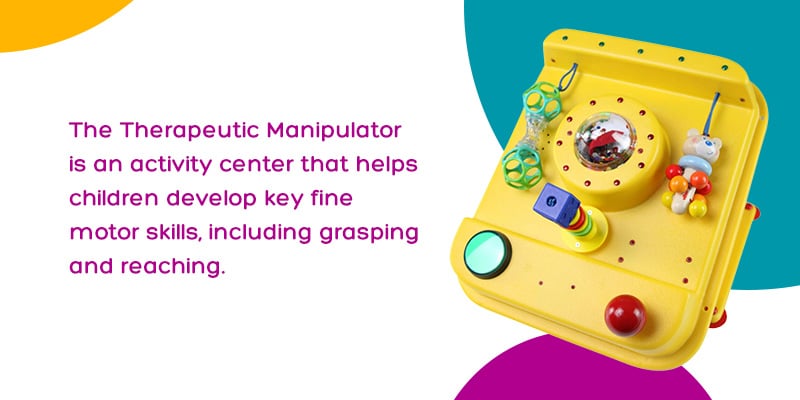 Toys for Fine Motor Skills
Fine motor skills require a child to use the small muscles in their body, such as those in the hands and fingers. Developing fine motor skills helps children become more independent, as they need the skills to dress themselves, eat and perform numerous everyday tasks. With fine motor skills, children can grip objects and manipulate materials.
Examples of fine motor skills include being able to hold a pencil or crayon, use a computer mouse, tie shoelaces and brush their teeth. Numerous toys can help children with special needs develop their fine motor skills.
1. Therapeutic Manipulator
The Therapeutic Manipulator is an activity center that helps children develop key fine motor skills, including grasping and reaching. It also helps develop finger isolation. The toy has several activities built in, such as a dangling toy that makes a silly noise when pulled or a giant knob that makes a cartoon sound when turned. There's a multicolored, light-up spring toy and a big green button that plays soothing music.
Children can play with the toy on the floor or at a table. You can also remove the base and attach it to a wall.
2. Tactivity Center
The Tactivity Center is a multipurpose toy that helps children with limited mobility exercise and participate in therapeutic activities. It securely fastens to a table or wheelchair tray with two c-clamps. The toy consists of lightweight tubing with three attached accessories, including two textured balls and a ring.
Children can reach for and grasp the ring or balls, helping develop strength and eye-hand coordination. You can purchase additional accessories and extra toys for the Tactivity Center.
3. Desktop Busy Box
The Desktop Busy Box provides a variety of tactile experiences to a child, as each of its four sides has a different tactile sensation. One side plays music, another has ball chains and music, a third lights up and the fourth lets you record a 10-second message. On the top of the Busy Box is a green button that vibrates when pushed.
The Busy Box is attached to a lazy Susan, which lets children spin it, encouraging them to practice reaching. It also teaches children the basics of cause and effect, as they can soon see what happens after they press on each side of the box.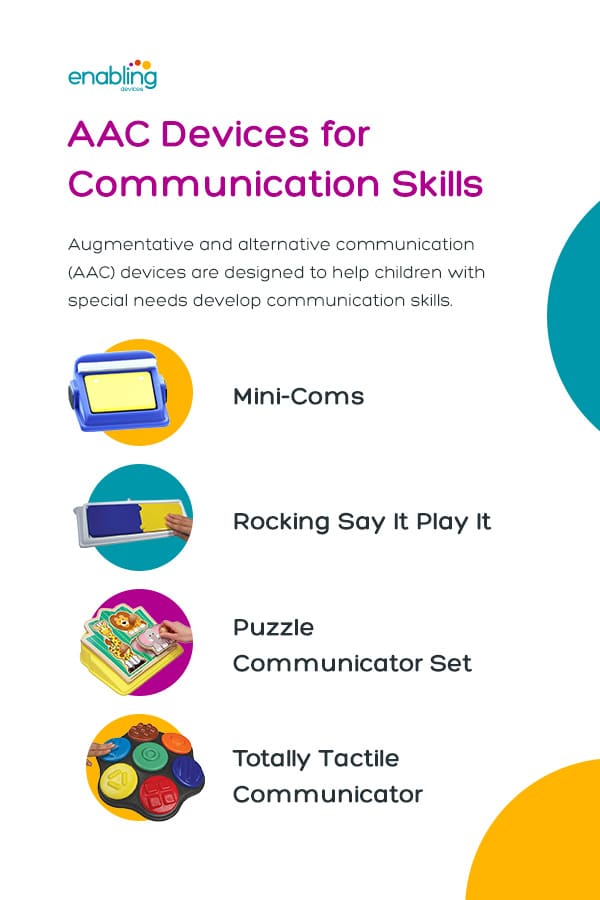 AAC Devices for Communication Skills
Augmentative and alternative communication (AAC) devices are designed to help children with special needs develop communication skills. Using communication devices allows children to express themselves and what they are feeling or thinking.
1. Mini-Coms
Mini-Coms help children develop simple communication skills. The devices let you record a short 20-second message, such as "I want an apple." Children can press the yellow button on the front of the communication device to let you know that they want an apple. The devices have a track on the top where you can place pictures or icons that illustrate the child's message.
Each Mini-Com has a small piece of hook and loop fastener on the side to connect several units and create more complex sentences.
2. Rocking Say It Play It
The Rocking Say It Play It helps children learn the connection between language and function. A useful toy for developing language skills, the Rocking Say It Play It lets you record two messages. Which message plays depends on the side of the switch the child presses. The toy helps children better understand how language works and what happens when certain words are spoken.
3. Puzzle Communicator Set
The Puzzle Communicator Set helps children recognize different types of animals while working on their communication skills. You can record up to 300 seconds on the communicator, creating messages for each of the five puzzle levels. When a child picks up or sets down a puzzle piece, the message will play.
Along with helping children learn communication skills, the Puzzle Communicator Set helps them develop grasping and fine motor skills. Each set comes with three puzzles and one base.
4. Totally Tactile Communicator
The Totally Tactile Communicator is an AAC device that's particularly useful for children with visual impairment. The tool has textured icons that are bright and colorful. You can record up to 36 messages on the communicator at seven seconds per message.
It has three built-in controls, including an on/off adjustment and volume control. The tool is attached to a lazy Susan, allowing playback delay on outside plates and vibration adjustment.
The Totally Tactile Communicator is flexible and customizable. You can adjust the messages and recording times based on a child's specific needs. You can also use the communicator in various settings, such as in the classroom, at the child's home or in public. The toy helps motivate children to communicate and interact with the world around them by allowing them to share messages.
Get the Best Toys for Your Home or Classroom
For more than four decades, Enabling Devices has created toys and products to help people with disabilities interact and connect with the world. Our goal is to bring joy to children and further unlock their potential through toys and communication devices.
Our toys have a place in the classroom, the home and sensory rooms. If you're looking for the best toys to help children develop communication skills and fine motor skills, we have plenty of options. Our toys can also help children learn to self-soothe and calm themselves in periods of anxiety and stress.
Browse our digital catalog to see what we have available. If there isn't a toy or device that quite fits your needs, we also offer customized services. Contact us today to learn more.