With effective vaccines, declining infection rates, and the gradual reopening of our schools, communities and businesses, many of us are seeing light at the end of what has been a very long and dark tunnel. But these encouraging and much-awaited developments do not change the fact that this has been a very difficult year.
I'm sure many of you have seen the headlines in the newspapers. The most shocking to me was in the New York Times: "How The World Ran Out of Everything." Often, headlines are written to sell newspapers; sometimes they are exaggerations, or overstatements. This one wasn't.
Microchips, circuit boards, and motors; wire and fasteners—the guts of our devices—have become scarce and more expensive. As the price of oil rises, so does the price of the plastic we use for the base molds. Our purchasing team works overtime to source everything we use, right down to the rivet, and even as I write this, prices continue to climb. Unfortunately, we believe that these supply chain disruptions will last for some time.
That said, we are working harder and smarter to minimize the impact on you—our customers. We're redesigning some products to make them better and more resource efficient. We're working with our vendors to secure what we need at a reasonable price and get it delivered when on time. Still, sometimes we cannot get what we need when we need it and at a price that makes sense.
We are aware that everyone's patience has been stretched for some time now, but we ask that you bear with us again now as we work hard to fulfill our commitment to getting you the products you need and depend on. We know that asking you to wait longer than usual to receive your order is frustrating and inconvenient. We know how disappointing it is when a product you really want and need is not available and we can't tell you exactly when it will be. This is a lot to ask when so much has already been asked of you and we are grateful for your continued support and your belief in what we do.
It feels like a battle out there, fighting for parts and answers from vendors, but we are up to the fight. We will find a way to continue to build what you need, so that you can keep doing the work that amazes and humbles us.
From the bottom of our hearts, we thank you for everything that you do, and we thank you for sticking with us during these difficult times.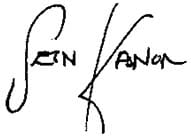 Seth Kanor, CEO