Whether your child is a virtual student or you want to supplement their in-school learning with online resources, you have a range of options to choose from. Learning from home takes some considerations, especially if you have a child with disabilities. But it can also provide an excellent opportunity to encourage your child and adapt their learning activities to fit their needs.
We've compiled some of our favorite educational resources into one list that's a great place to start when looking for learning from home resources. Whether your child is learning virtually or you're looking for ways to keep them engaged during the summer months, check out these tools and get started!
15 At-Home Learning Resources for Parents
You probably find yourself spending a lot more time helping your child through their classes, whether they're virtual or in-person. We get it — most parents aren't trained as teachers. And even the best school districts may not offer just the right content to meet each student's needs.
Even with quality public instruction from your child's school, you may choose to supplement learning at home. But finding the right tools at the right price can be tricky. It doesn't have to be! With the right options — including free resources — you can help your child make the most of whatever educational environment they find themselves in this year.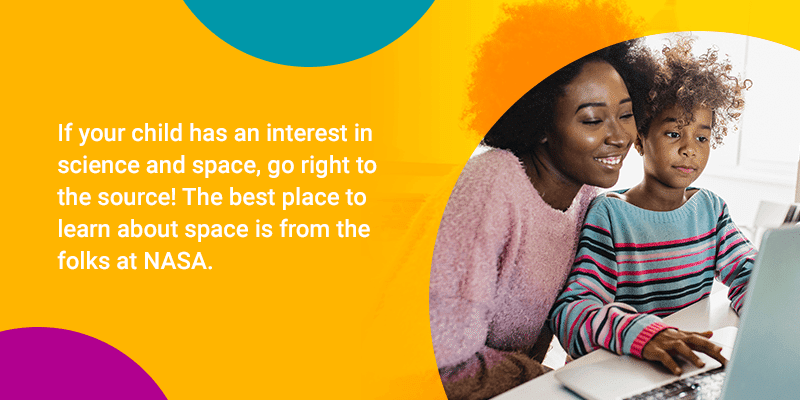 1. Reach for the Stars With NASA Online
If your child has an interest in science and space, go right to the source! The best place to learn about space is from the folks at NASA. Dive into NASA's Space Place, an interactive site where kids can learn all about our solar system and the universe we live in. Your child will explore the wonders of the universe by watching videos with bright colors and movement, or you can help them with space-themed activities.
You can help your child discover the Big Bang theory with the more tactile activity of making glittery, stretchy universe slime. Or discover ions in action with a fun static electricity activity. From learning about the phases of the moon to watching a video of the Ingenuity Mars Helicopter flying around, kids can get an up-close look at the universe around them through visually engaging content and tactile experiences.
2. Tour the National Museum of Natural History From Home
View all the Smithsonian has to offer from the comfort of your own home. This virtual tour allows students of all ages to take in the exhibits at this world-class museum. View their extensive permanent collection of dinosaur fossils, gemstones and other fascinating exhibits. Bright, eye-catching colors and textures will help keep your child engaged as they click through or listen to information about each exhibit. Discover the diversity of rich patterns and shapes in our natural world.
3. Head to the Zoo or Tour the Farm
We just can't get enough of virtual field trips! Taking a virtual trip to the zoo or farm is an ideal way to experience a variety of animals and learn all about their behavior. The Cincinnati Zoo and Botanical Garden offers behind-the-scenes tours of various animal enclosures, and they're all on their Facebook page for you to watch! Each video focuses on one animal at a time, allowing children to learn about one specific animal before moving on to the next one.
Or, discover where food comes from with interactive virtual farm tours. FarmFood 360 offers 360-degree video tours of different types of farms, including egg, beef, dairy and chicken farms. Your child will stay engaged by clicking around the screen or tilting a mobile device to virtually tour farms. Scamper with the pigs during feeding time, or relax among the gently waving apple trees as workers pick the bright red treats.
4. Wind Down With Dolly Parton's Imagination Library
Say "Goodnight" with famed singer Dolly Parton as she reads bedtime stories online. Accompanied by an activity sheet and songs, these read-out-loud videos are a great way to wind down at naptime or at the end of a long day. Your child can follow along with the textured and brightly colored pages of popular children's storybooks as Dolly's relaxing Southern voice lulls them to sleep. You'll also find resources for reading tips for parents to help keep your child engaged with storytime.
5. Get Fit With School of Strength
If your child is interested in sports or even just needs to get out their extra energy, the Special Olympics School of Strength is an excellent free resource for athletes with special needs and their coaches and caregivers. The series includes four videos under 10 minutes to help your child warm up and build their endurance, strength and balance.
For children who crave more activity, try the 30-minute-long extra-credit videos with celebrity trainer Shannon Decker and Special Olympic athletes. The site also includes minute-long extra-credit challenges, like frog jumps and side-to-side bouncing, accompanied by quick gifs and easy-to-follow steps for quick workouts.
Modify the videos for your child's athletic ability with three different levels of exercises — superstar, champion and master trainer. Give your child the best experience with tools for coaches and caregivers that explain the various workouts, how to empower athletes, healthy foods and drinks and workout calendars.
6. Explore Early Exercise With Young Athletes At Home
Help your child grow their motor skills and confidence with Special Olympics Young Athletes at Home. Young Athletes at Home includes different activities tailor-made to build your child's skills and prepare them for school by teaching them physical skills, turn-taking and following directions. Easy-to-follow flashcards detail activities for all ages and abilities, such as beginner obstacle courses with household items, dance games with place markers and activities like pretending to be different animals.
Activities on the flashcards are meant to build foundational skills like:
Health and fitness
Walking
Running
Balancing
Jumping
Throwing
Catching
Striking objects
Kicking
Dribbling and other, more advanced sports skills
Young Athletes also helps you figure out safe places to play with your child, how you can encourage your child's development during activities and how to promote daily healthy play. It even details everyday household items you can use like tape or stickers instead of gym floor markers and empty cups instead of cones. Follow those and other tips to create visually engaging exercise activities for your child.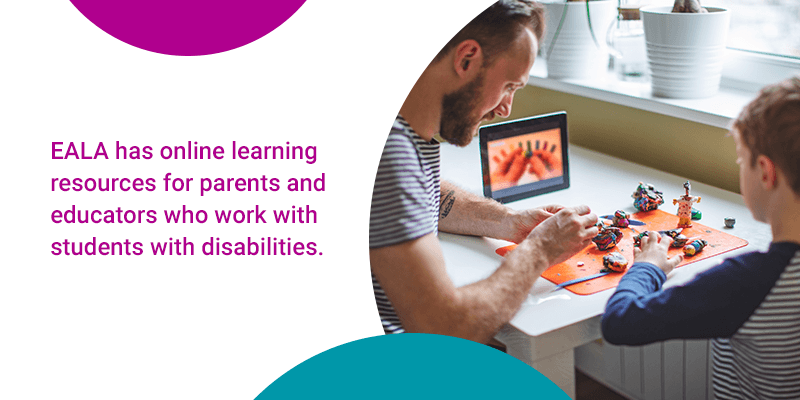 7. Discover Inclusive Education Resources Through Educating All Learners Alliance
As a parent of a child with a disability, you may have experienced the challenges of remote education. Educating All Learners Alliance, or EALA, is a group of inclusive education organizations that supports the educational needs of students with disabilities. EALA has online learning resources for parents and educators who work with students with disabilities. Specific resources include teaching and learning strategies, information about particular intervention services like speech and physical therapy, fostering social and emotional well-being and best family communication practices.
The organization also offers webinars to discuss various disability and education concepts. Common topics include discussions on how families can use EALA resources, other families' experiences with hybrid and remote learning, information on the most recent accessibility education technology, national disability policies and other best inclusive education practices.
Students with learning disabilities, dyslexia or physical disabilities sometimes have trouble reading in a traditional sense. But with Bookshare, qualifying students with disabilities in the U.S. can enjoy more than 1 million titles for free. Your child will be able to read on the device of their choosing, whether they prefer to use a laptop, smartphone, e-books or an assistive device.
Your child will be empowered to customize their reading experience to their needs. Bookshare allows children with disabilities to curate their e-reading experience with adjusted reading speed and multiple fonts and colors. They can also choose from a variety of reading methods, including read-along highlighting, listening to their books or reading in braille. Plus, Bookshare even allows students to add bookmarks and notes and use partner apps and study tools to help them process the information they're reading.
9. Learn From Home With Do2Learn
If you're searching for a well-established learning resource for kids with disabilities, Do2 Learn has you covered. Founded in 1996, Do2Learn provides resources for parents and teachers of children with special needs. It offers fun activities for students to build different academic skills like fine motor development, language skills, math and learning strategies, in addition to providing educational resources for building social and behavioral management skills. The site even features picture card resources for people with language difficulties to help develop and communicate daily life skills!
As a parent, you'll also be able to research more about disability. You can explore the Individuals with Disabilities Education Act's definitions of disability, how school districts and early intervention centers evaluate children for different disabilities, the characteristics of multiple cognitive disabilities and strategies to address them. Additionally, you can review your rights as a parent with a child receiving special education services.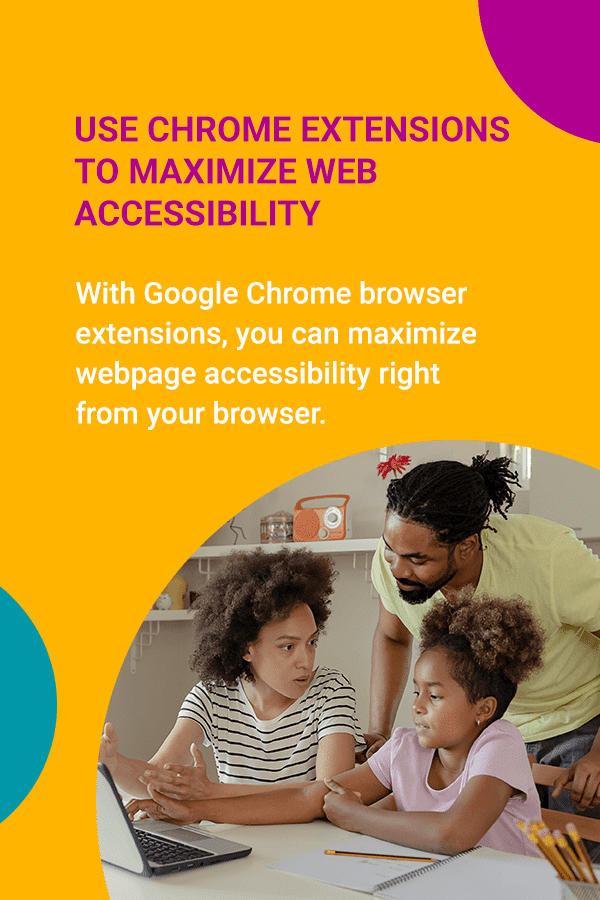 10. Use Chrome Extensions to Maximize Web Accessibility
With Google Chrome browser extensions, you can maximize webpage accessibility right from your browser. Authorized Google Education Trainer and Certified Innovator Eric Curts has compiled a list of Chrome browser extensions for easy readability, increased focus and comprehension and easier navigation. Tools include:
Word prediction
Dictionaries and picture dictionaries
Text-to-speech
Voice typing
Font replacements for people with reading disorders like dyslexia
Other services help with focus, like horizontal reading bars and ad-blockers.
11. Boost Communications Skills With Seaver Autism Center
At the beginning of the coronavirus pandemic, schools sent children home for remote learning. While this move was challenging for most families, it was especially difficult for many children with autism. Because attending school is a significant source of socialization and professional support for students, many parents are searching for resources and activities to help their children develop conversation skills. The Seaver Autism Center has online learning resources for parents to help their children continue to grow in their ability to communicate effectively.
The Center has hosted webinar series on topics like advice for overcoming sensory issues while wearing masks, strategies on combatting anxiety as businesses and public places re-open and how caregivers can take care of themselves during this time. Additional resources include games like Simon Says, charades and using a conversation ball. The Center also has a plethora of general information and resources for parents of children with autism.
12. Get Away With Easterseals Recreation and Camping
All children should have the opportunity to attend camp. Easterseals is the largest camping and recreation services provider for people with disabilities in the U.S., with 30 camps across the country. Services include both day and residential camping with a variety of barrier-free recreation options like water sports, campfires, arts and crafts, horseback riding, bingo and dances. Your child can discover their independence in a safe place away from home while developing their interests, learning how to work on a team and create life-long friendships.
But beyond providing an accessible camp experience for both children and adults with disabilities, Easterseals also provides respite services for both you as a caregiver and your child with special needs. You can rest, relax and connect with other caregivers through support groups and retreats with the peace of mind that your child is safe. Plus, their blog and brain health center resources also include great information for parents of children with special needs.
13. Join a Parent Group
Parents of children with special needs have particular concerns for their families and child care. By joining a parent group, you'll discover a range of resources, like information about your child's school, learning at home resources and which local medical professionals are best with children with disabilities. You'll also be able to share and relate to other families' experiences. Parent groups are a great educational resource for emotional support and learning more about your child's disability.
If you're looking to speak one-on-one with someone going through a similar experience as you, check out the Parent to Parent Program. Parent to Parent USA is a great resource to find fellow parents whose child has the same disability as yours. You can also find parent groups for specific disabilities. By talking to other parents, you'll be able to share your experiences and gain insight and tips from other caregivers.
14. Research State-Run Programs
Beyond privately-run parent groups, states also have resources to support parents of children with disabilities. While some groups are state-specific, each state has a Parent Training and Information Center, or PTI. Some states also have Community Parent Resource Centers, or CPRCs, which local parenting organizations run. These groups can provide you with information about your child's disability, resources available to your family and how you can effectively support your child.
15. Consult How-To Resources for Parents
A big part of helping your child through at-home learning is knowing how to provide them with the emotional support they need. Even more than reading, writing and math lessons, children need the love and support of their parents.
The Child Mind Institute offers resources for parents to help them talk to their children about some of today's most pressing topics, including disappointment, back-to-school anxiety and fear of getting sick. They also offer resources for parents of children with autism, including topics such as managing anxiety, telehealth and revising an IEP for distance learning.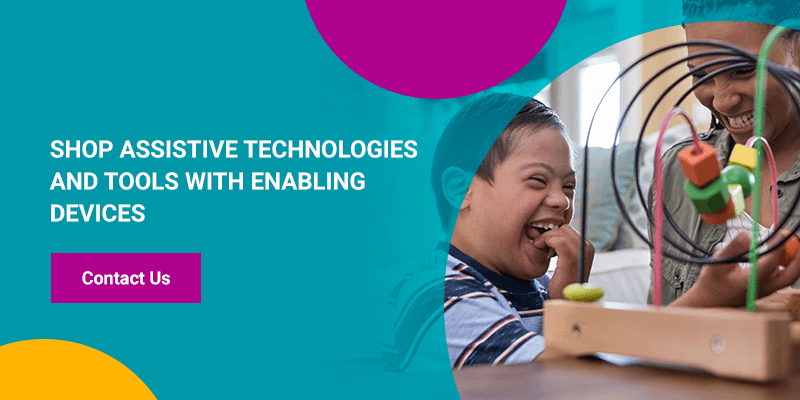 Shop Assistive Technologies and Tools With Enabling Devices
Since our founding nearly 40 years ago, Enabling Devices has been committed to providing products that help individuals with disabilities lead more productive, fulfilling lives. We firmly believe that a disability shouldn't prevent you from learning, growing and making the most of what the world has to offer. It just means it's time to get creative! We are proud to offer a variety of products to assist with learning, play and communications for children and adults.
Browse our shop or contact us for help finding the right products for your needs.