With fall just around the corner, there are plenty of autumn activities you can try to get children and students excited for cooler weather and the new season. Introducing your students with special needs to various indoor and outdoor fall experiences is a wonderful way to teach them about the changing weather, falling leaves and new sights and smells.
As you read these fall activities for students with special needs, keep in mind that though they are inclusive to most children, some of your students may not enjoy these activities or they may require more assistance. Have an alternative or backup plan if these experiences do not go as planned.
1. Go on a Nature Walk
Taking your students outdoors to explore sights, sounds and scents can tie in your science or weather lesson for the day. You can also encourage your students to collect various plants or point out animals they see. Make a game out of it and see if any children can spot a tree with changing or falling leaves!
This is a perfect opportunity to discuss the transition of the seasons. If you go on a nature walk, choose a wide path so children with wheelchairs or mobility devices can easily navigate the area.
2. Make Leaf Piles
Another fun outdoor fall activity for children with special needs is making piles of leaves to throw in the air or jump in. This activity can help children strengthen their gross motor skills by raking the leaves together. You can describe the sounds and feeling of crunching on the dried leaves with your feet and encourage students to collect a variety of leaves to compare colors and textures.
This activity can help stimulate the senses and teach children with special needs how gravity works as the leaves fall through the air. You can introduce this activity to children with a wide range of disabilities. If you have students with physical limitations or mobility devices, you can demonstrate this activity for them or use a table to put the leaves at their required height.
3. Visit a Farm or Pumpkin Patch
Pumpkins are undoubtedly the symbol of fall. Look for a local farm or pumpkin patch where you can bring your students to enjoy child-friendly activities, such as a petting zoo, exploring a pumpkin patch and decorating pumpkins. All children with disabilities can enjoy this activity, as there will be plenty of things to do at a pumpkin patch that are accessible to many.
Petting and feeding the animals at the farm can be a soothing and fun sensory experience, and children with special needs can also learn to describe the different textures of the pumpkins they pick out. If some of your students have sensory sensitivities, try visiting a smaller pumpkin patch or going on a slow day to avoid crowds.
4. Go on a Hayride
This time of year is the best for hayrides. Cooler, windy weather can be exciting and stimulating for your students. All children with special needs can participate in a hayride if they wish, as most hayride vehicles can accommodate mobility devices, such as wheelchairs.
Some children with sensory sensitivities or those with Autism Spectrum Disorder (ASD) may not enjoy it. If any students have tactile sensory sensitivities and don't enjoy the feeling of hay, bring soft blankets or beach towels to lay on the bales. You and other supervising adults can also sit with students who simply want to watch the hayride go by instead of participating. Many places that offer hayrides will also provide other fun activities, such as sandbox games, coloring or a corn maze.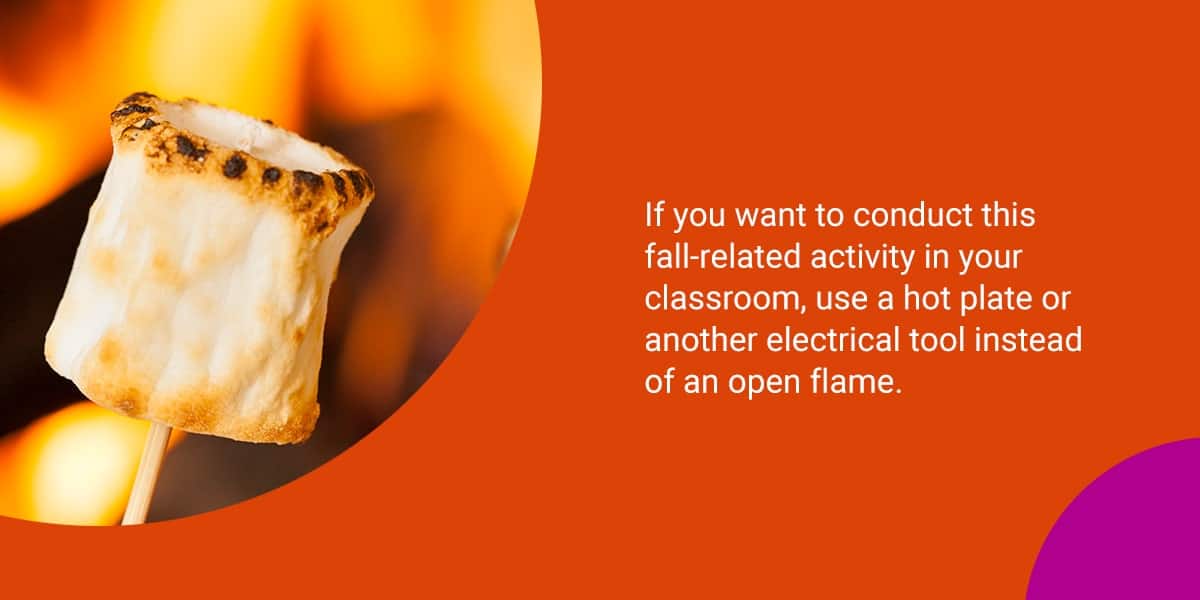 5. Roast Marshmallows
Making s'mores and roasting marshmallows is a fun and delicious activity for any time of year, but it's particularly enjoyable when combined with cool fall weather. This activity engages the senses by helping your students learn how heat affects marshmallows and what they taste like. This activity would be best for students with no swallowing or feeding challenges.
If you want to conduct this fall-related activity in your classroom, use a hot plate or another electrical tool instead of an open flame. If you have students with various mobility needs who are unable to hold a stick for roasting, you can even roast all the marshmallows in an oven for the same gooey taste.
6. Pick Apples
One of the best fall activities for kids with special needs is picking apples. This project allows you to teach your students about how fruit grows. If you have an apple orchard nearby, bring your students so they can take in all the sights and smells of the apples and eat as many as they want. This activity will allow them to experience many colorful shapes and beautiful sounds in nature.
During the fall season, many apple orchards may have other fun activities, like drinking or making apple cider or tractor rides. This activity can help your students with special needs learn to use their fingers and hand muscles to grasp the apples and pull them from the trees. Some students may need assistance with this activity, such as reaching for the apples or holding their basket.
7. Create Apple Stamps
Making apple art with the apples you picked from the orchard is a fun new art lesson for your students. Cut the apples in half, dip them in ink or paint and paste them onto paper. This will produce a design on the paper.
Then, encourage your students to try it themselves and see what shapes they can make with the apples as you cut them into different pieces. Using these apple stamps, you can even have your students create fall greeting cards for the upcoming holidays, such as Halloween or Thanksgiving.
8. Build Fall-Themed Sensory Bins
A sensory bin lets kids touch and explore various textures. To incorporate a fall theme, you can fill a rubber bin with brown rice and various autumnal goodies, such as:
Apples
Gourds
Small pumpkins
Leaves
Acorns and pinecones
Dried flowers
Corn husks and kernels
Ask your students to describe the different colors, shapes and textures and provide them with various tools to scoop or grab the items to learn how to master their grasping skills. This activity is friendly for those using mobility devices, but children with limited physical mobility may need assistance.
9. Go Birdwatching
Birdwatching is friendly for all types of needs and abilities because it simply involves sitting or walking around and waiting to spot various birds. Birdwatching during fall is particularly enjoyable because your students may get to see new species of birds among the changing colors of the trees and plants.
Bring your students outside to the playground or local park and have them indicate when they see a bird. You may also attract the birds by putting out cups or hanging birdseed from nearby branches so your students can get a closer look.
10. Bake Seasonal Treats
Baking treats can be one of the most fun fall activities for kids with special needs because it's something everyone can do together — and they get to enjoy a delicious snack when it's done. With your students, set up everything you need to bake cookies, pumpkin bread or another treat. You can assign different tasks to students of various abilities, such as mixing the dough, pouring in the ingredients, stirring the contents in the bowl or scooping the dough onto a tray.
If you have some students who have limited mobility, task them with choosing the treats you make or instructing you on how to decorate your goodies when they're fully cooked! This activity can show students how to practice sharing, taking turns and following directions.
11. Carve a Pumpkin
If you visit a pumpkin patch, have your students bring pumpkins back to your classroom so they can carve or decorate them. With this activity, we recommend you and other supervising adults do the actual carving instead of the children because you will need to use sharp tools. Ask each child what they want their pumpkin to look like or what they want you to carve into the pumpkin, and you can bring it to life.
You may also supply students with glitter, paint and stickers so they can decorate their pumpkins afterward. Allow your students to feel the squishy insides and seeds of the pumpkin and let them play with it and ask them to describe the smell and texture.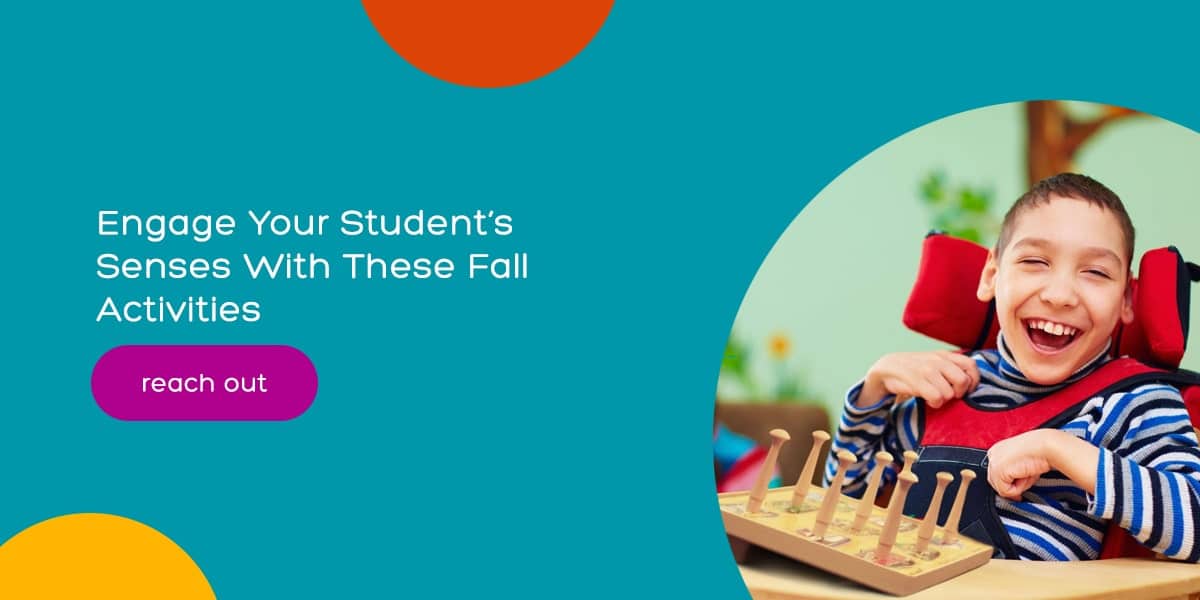 Engage Your Student's Senses With These Fall Activities
If you're planning some fun activities during the fall for your students with special needs, make sure they have everything they need to comfortably interact and communicate with others as you introduce new sensory concepts. At Enabling Devices, it's our passion to create exceptional products that help individuals with disabilities and special needs fully participate in the world around them, particularly in fun, engaging and educational activities!
Whether your students could benefit from comforting sensory products during a hayride, adaptive toys to keep them calm during a trip to the orchard or a communication device to express their thoughts and ideas, there are plenty of tools to choose from.
We also offer customized products based on an individual's needs. If you think one or more of your students could benefit from a certain device, we can design something entirely new that suits their goals and abilities. To learn more about our products and mission to enable possibility, browse our catalog online or contact us today.