Updated 3/8/2023
The human brain is designed to regulate how we react to sensory inputs — everything we hear, see, smell, taste and touch. This link between the brain and our behavior is called "sensory integration." For most people, this is an unconscious part of the daily experience. But for an individual with a developmental disorder, such as autism or a sensory processing disorder, the way the brain processes these experiences can be a source of distress and discomfort.
In some cases, the brain may overreact to sensory stimuli. Other times, it may not react enough. A person's sensory experiences go beyond the basic five senses and can negatively affect deeper sensory responses, known as the tactile, vestibular and proprioceptive sensory systems.
"Tactile" refers to the experience of touch, including textures, detecting hot and cold temperatures, moisture and pain. "Vestibular" is the sensory system that controls balance and movement, including auditory processing and visual development — sight and sound. The third system — "proprioceptive" — includes all muscles and joints, which means it influences a variety of bodily functions, including needing to use the bathroom and feelings of being hungry.
The inability to regulate certain sensory stimuli from any or all of these systems is called "sensory processing disorder." In many cases, it can cause a variety of behaviors, such as fighting, meltdowns, spinning, rocking or hand-flapping, as well as problems with information processing and cognitive and physical development.
So what is a parent or caregiver to do?
One increasingly popular method of treating and overcoming sensory problems is the use of a sensory room. These "safe" spaces are designed to provide room for individuals with a sensory processing disorder to decompress and confront a variety of sensory issues in a way that will help them to cope with sensory experiences.
Sensory rooms are pivotal components in helping children and people with disabilities experience the pleasure of play, find comfort and improve their sensory processing skills.
What Is a Sensory Room?
A sensory room is a space of any size, designed to help an individual with sensory processing disorder develop coping skills and regulate their brain's response to stimuli. In some cases, a sensory space can be a whole room, or it can simply be a space set aside in a corner of a larger room. The contents and design of a sensory room or space can and should  be tailored to the needs of the individuals using it, because each person with a sensory processing disorder will have different sensory needs.
Also known as a "multi-sensory room," these safe spaces have been in use since the 1970s, but now that one in 44 children is diagnosed with Autism Spectrum Disorder (ASD), which typically affects sensory integration, the need for them is greater than ever. The concepts behind sensory rooms have been recognized by occupational therapists (OTs) for years, but nowadays more and more parents, therapists and educators are installing them in their homes, clinics, hospitals and schools.
Creating a multi-sensory environment in a home, clinic, hospital or school can be an ideal way to continue the benefits of occupational therapy outside of the OT's office. It also allows children and adults with sensory integration needs to have consistent access to the same sensory activities that benefit them during their therapy sessions.
While many people are familiar with the use of sensory rooms for those on the autism spectrum, they can also be utilized for individuals with cerebral palsy and Down syndrome as well as people facing challenges with communication, movement, balance and social skills.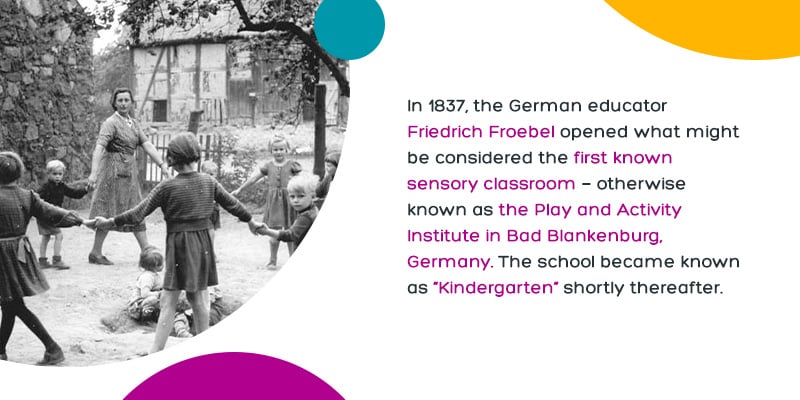 The History of Sensory Rooms
While sensory rooms might seem like a relatively new phenomenon, the importance of play and activity in childhood has been recognized for ages.
In 1837, the German educator Friedrich Froebel opened what might be considered the first known sensory classroom — the Play and Activity Institute in Bad Blankenburg, Germany. The school became known as "Kindergarten" shortly thereafter.
Froebel passionately advocated the importance of play for children, regardless of their physical, emotional and cognitive differences. He once said, "play is the highest expression of human development in childhood, for it alone is the free expression of what is in a child's soul."
Years later, in the 1970s, Dutch therapists Jan Hulsegge and Ad Verheul opened an experimental sensory room during their time at the de Hartenberg Institute. They aimed to provide people with disabilities with a sensory learning and play environment incorporating visual, tactile and auditory experiences.
From there, the popularity and prevalence of sensory rooms took off. Sensory rooms now exist in residential and commercial settings, in homes, schools, in health care settings and workplaces.
Why Create a Sensory Room or Space?
Individuals with sensory processing disorders often struggle to cope with the world around them. Loud noises, bright lights, rough patterns or foods with unwelcome textures are just some of the things that can cause distress. Because their conditions can magnify even minor sensory encounters, these children and adults may be prone to meltdowns, tantrums or sometimes harmful attempts at self-soothing.
How Does a Sensory Room Help People With Disabilities?
Sensory rooms are a place where individuals can go when they feel overstimulated — not simply a place for a time-out. A sensory room provides a calming environment where an overstimulated person can regain control of their emotions while enjoying sensory tools and toys.
While sensory rooms may not eliminate the brain's sensitivity to certain stimuli, they can help individuals with sensory processing disorders to learn coping skills they can use in the outside world.
Why Is Sensory Play Beneficial?
To understand what the benefits of a sensory room are, it helps to know more about sensory play.
Sensory Play Benefits Each Person Differently
Because each person has different sensory sensitivities and ways of reacting to them, the benefit each receives from a sensory room will also be individual. Overall, though, sensory rooms provide a variety of benefits for both children and adults of all ages, such as:
1. Calming Effects
Negative reactions to sensory experiences are distressing for both children and adults. When they get agitated, spending time in a dim, calming room where they can be alone and take charge of their emotions is beneficial. Sensory room elements for people with autism or other sensory processing difficulties who need a calming environment include a white noise machine, an aromatherapy diffuser or a variety of other soothing items designed to help them regain control of their emotions.
2. Stimulation
In some cases, children and adults may need additional sensory stimulation to heighten feelings of awareness and well-being. For these individuals, a sensory space may contain specially designed toys or items that encourage engagement and appeal to sensory seekers. These toys help them become more aware of their senses and explore sensory experiences in a safe environment.
3. Socialization
While some individuals may benefit from using a sensory room alone, sensory rooms can also provide places for them to practice interacting with others. This may be especially true of a sensory room used within the school setting. In these cases, the idea is to provide a safe, stress-free space that allows children to move and explore together, especially in rooms where they can practice becoming more aware of how their bodies move and controlling those movements when they are around others.
4. Improved Focus
Individuals on the autism spectrum or with other developmental disorders are often distracted, and they struggle to pay attention to what's going on around them. A sensory room can help them increase awareness of their surroundings and learn to cope with real-life situations where concentration is required, such as in the classroom or the workplace.
5. Sensory-Motor Skills Development
Because muscle movement and balance can be a challenge for those with with sensory processing disorders, providing a safe space to hone fine motor skills and practice movement can be beneficial. Equipment that encourages bouncing, jumping or even core stabilizing activities can help promote this.
6. Cognitive Development
While sensory rooms won't rewire the brain, they can be instrumental in teaching your family member how to process experiences and cope in situations where their reactions might otherwise become extreme. For those on the autism spectrum or with sensory processing disorders, it's also a great way to help them explore cause and effect as they learn about how their actions influence the world around them.
7. Sensory Development
By creating a sensory space in your home, your family member can explore their senses — and their brain's reaction to those experiences — in a safe, stress-free environment. By exposing them to the brain's complex reactions to things they touch or hear, sensory-motor skills and balance as well as their muscle functions, they can learn how to process and control those experiences when they are away from home.
Creating Sensory Spaces in Homes
Creating a sensory space in your home can help your family member hone their coping skills and interact with sensory input somewhere that's safe and comfortable for them. At home, they are likely to feel relaxed and can make better progress confronting and working through sensory issues.
The great thing about a sensory space is that it doesn't have to take up an entire room in your home. Any corner in a playroom, bedroom or family room in your home can be made into a sensory space.
How to Design a Sensory Room
Designing sensory spaces in a home can be challenging, especially if you aren't sure where to start. To make the process easier, stop and ask yourself a few questions:
What Does My Family Member Need?
Everyone is different and will require different toys, tools, lighting and ambiance. In some cases, your family member may need stimulation. In other cases, they may require calming sensory input. Some individuals may need to work on balance and an aversion to loud noises, while others are struggling to hone fine motor skills or cope with a sensitivity to textures.
How you use the space will depend on a variety of factors, including the age of your family member, their specific struggles and the space you have available. Some caregivers set aside a sensory space as a time-out area and a place where their loved one can calm down when they are over-stimulated or worked up.
Others prefer to use the space to develop their family member's sensory skills and coping mechanisms to avoid meltdowns. While both of these are good goals, it's important to identify your own goals for constructing the space. That will help you decide how to design the area and what items you need to include.
Where Will I Set Up the Sensory Space?
A sensory space doesn't have to be an entire room. It should be in an out-of-the-way area of your home that's not prone to a lot of noise or interruptions, though. Your family member should be able to spend time in this area without contending with sounds from the television, toilets flushing or fragments of conversations from other family members.
Sensory spaces also work better if they are not near windows so that the lighting can be controlled, particularly if you plan on using special lighting as part of the sensory experience. Because you'll likely be using artificial lighting in some capacity, you'll also need to select a spot that has easy access to at least one electrical outlet.
What Products Will Best Meet My Loved One's Needs?
Here's where you decide what is in your sensory room. No two home sensory spaces are the same because each one is constructed with your family member's specific needs in mind. Once you've identified what you're trying to address, then it's time to begin shopping for the best sensory products.
Selecting products to meet your family member's requirements can be challenging if you haven't designed a sensory space before. That's why working with an experienced company like Enabling Devices can help you through the process. Before you begin purchasing products, fill out our design questionnaire. It's meant to match your needs with our products. Based on your input, we can guide you through the process of designing a sensory space.
Depending on your family member's needs, you can choose from a wide variety of items. Examples of some items that might end up in your sensory space include an Enabling Devices Bean Bag Chair or an Enabling Devices Beanless Bag Chair, Sensory LED Bubble Tubes, a Fiber Optic Curtain and activity mats.
How Do You Make a Sensory Room?
Once you have a location for your sensory space and items to fill it, it's time to start decorating. Remember that a sensory space is not intended to be a gym or a space to do homework. Rather, it's a place for your family member to explore and engage with the items in the room.
While the space should be fairly open and uncluttered, make sure to provide a comfortable place to sit or lie down. Make sure that all of the items in the room are within easy reach. This is especially important if you're including mirrors in your sensory space since your family member needs to be able to see themselves as they explore.
Also make sure that you understand how all the equipment in the sensory room works and how it can help your family member. Being engaged and informed about their sensory space can help you supervise and make sure the space is safe and serving its purpose.
That being said, also remember that a sensory space is a place for your family member to explore and experience things without a lot of instruction or interruption. As long as the environment is safe, stand back and let the fun and learning begin!
Factors to Consider When Creating a Sensory Room
Ideally, the sensory room should be an oasis separate from other busier areas of the house or building, away from noisy hallways. But you can make an area of an existing room work, as well.
Below are some other key factors to consider when planning your new sensory room.
Ventilation, Cooling and Heating
Before selecting a location for your sensory room, double-check the room's air circulation and temperature regulation options. Electronic equipment increases the temperature of the room, especially if there are multiple people in the sensory room at one time. It's best to have a dedicated thermostat within the room to easily monitor and change the temperature when necessary.
Environment
Consider the size, shape and general environment of the room. Larger, angular rooms are best if you intend to hang objects on walls. Regardless of the room's size, select a space without windows to avoid bright lights and create a dark, soothing environment. If you can't use a room without windows, consider using blackout curtains or blinds.
You'll also want to consider insulating the room. If you can hear outside noises inside, soundproof the room by installing soundproof drywall, thick, shaggy carpets and acoustic foam panels. That being said, always ensure any carpeting you choose is wheelchair-friendly if needed.
Design
Your sensory room's design includes the auditory, tactile and visual components that set the mood for the learning and play that will soon take place. The noises, colors, materials and lights should combine to create a soothing, accessible environment excellent for decompression. Consider the following when designing a sensory room:
Walls: The wall colors you choose should depend on the visual elements you intend to use. For example, if you plan to use a projector to display colorful shapes and patterns, a white or off-white wall is best. However, if you intend to use ultraviolet lights, a darker wall is best.
Ceilings: Ceilings offer a unique opportunity to create an immersive sensory experience. Fun paint colors, sensory ceiling panels, glow-in-the-dark decals and billowing canopies are fun ceiling additions.
Floors: There are many styles of flooring to choose from for sensory rooms, including low-pile carpets, foam tiles, rubber tiles and folding mats. Consider a combination of flooring styles and choose a firm material for primary pathways.
Electricity
Next, you'll want to ensure the room has ample electrical outlets. It's also best to have a separate capability switch — or on/off wall switch — for every electrical product. If possible, locate all wall switches in a designated and conveniently located spot in the room.
Each product should also have a suitable capability switch for the end user. The switch type you choose for your sensory products should not fatigue or pain the end user, but instead, give them the best control over the tool or device possible.
Equipment
Once you've selected a room and considered its layout and design, it's time to select your equipment. People create sensory rooms for all kinds of reasons — from reducing stress and improving social interactions to increasing focus and motivating learning — so the equipment you choose should suit the room's ultimate purpose.
What Are the Benefits of Sensory Rooms in Schools?
Sensory spaces in schools have been shown to decrease negative behaviors and improve student engagement. The benefits of sensory rooms in schools have led some educators to begin using sensory rooms for groups of students beyond those with a diagnosed sensory processing disorder or developmental disability.
Any student who struggles with balance and a sense of where their body is in the area around them can benefit from time in a sensory space. By learning about their bodies and how to control them, these students can develop their muscle control and awareness of what's around them.
Having sensory rooms within a school can also reduce the need to send students out of the school for additional services. For students who need to work with occupational or physical therapists, these professionals can be brought into the school, rather than students being taken out of class and the school to have these appointments. This maintains consistency in a student's day and reduces the amount of time they have to be away from school.
In some cases, sensory rooms can also be used for students who have experienced trauma. School counselors and psychologists can and should be consulted on the best way to use these rooms for students in these situations.
Whether your school's sensory room will accommodate a large student population or a small number, it doesn't have to be fancy to become an effective part of your instructional programming. Painting the room a relaxing color, putting soft rugs or carpet on the floor and then including a equipment to address a variety of needs is all that's required for this space to be established.
How to Choose Products for Your Sensory Space
When you're working on how to create a sensory space, it can be helpful to narrow down your choices of equipment to include in your room. By determining your needs — and how much space you have to work with — you can choose from a wide range of products and designs that will be helpful to you and your loved one.
Sensory Products for Calming
If you're planning to use your sensory room for calming, it's important to design a space that encourages relaxation and quiet. Some ways to incorporate calm into your space include:
Sensory lighting: If your room already has windows, then find curtains or shades that can soften the natural light and create a more calming space. If you have a dark space that needs a certain amount of light, select lights that enable you to see but still maintain a soft, calm feeling in the room.
Weighted Clothing or Blankets: The deep pressure these products provide to muscles and joints can help your loved one calm down and relax when they need it the most.
Chewables: Whether your loved one craves oral stimulation or struggles with oral motor skills, providing sensory input to the mouth, jaw and lips can provide a relaxing experience and help with breath control, muscle tone and lip closure, too.
Sensory Products for Auditory Needs
While there are times that your loved one will need peace and quiet, there are other times when sound can provide a calming or focusing effect that can enhance the sensory room experience. Some ways to incorporate items for auditory needs include:
Compact Activity Center: A compact activity center is a multi-function toy. Among its many features is a music box designed to stimulate sensory and cognitive development.
Sound Toys: Whether your loved one is soothed by music or white noise, toys that make soothing sounds like our Jellyfish Soother or a music player of some kind may be helpful in your sensory space.
Sensory Products for Vestibular and Sensory-Motor Skills
Products that encourage balance, muscle strength and improved sensory-motor skills are essential components of a sensory room. These may include:
Donut Balls: These are designed to improve coordination, balance and flexibility. They are similar to exercise balls and improve core strength. They're also just plain fun!
Ball Chairs: These chairs can assist a loved one who struggles with sitting still and paying attention. With regular use, they can also improve balance and posture.
Hanging Chair: A zero-gravity chair is designed to improve gross motor and vestibular functioning.
Sensory Products for Tactile Needs
In many cases, you will want to incorporate a variety of tactile experiences into a sensory space, including:
Therapeutic Textured Balls: This kit includes balls of all different textures that increase stimulation while also providing exercise.
Gel Mats: Gel mats such as this one, combine tactile experiences with improving finger strength and eye-hand coordination.
Tactile Manipulatives: These items are designed to decrease stress and increase focus and concentration. They can also help your loved one improve their tactile awareness and fine motor skills. Manipulatives can include plush toys as well as activity centers.
Rarely does an individual on the autism spectrum or another developmental disorder only struggle in one area. In most cases, your sensory room will include a few items from each of these categories.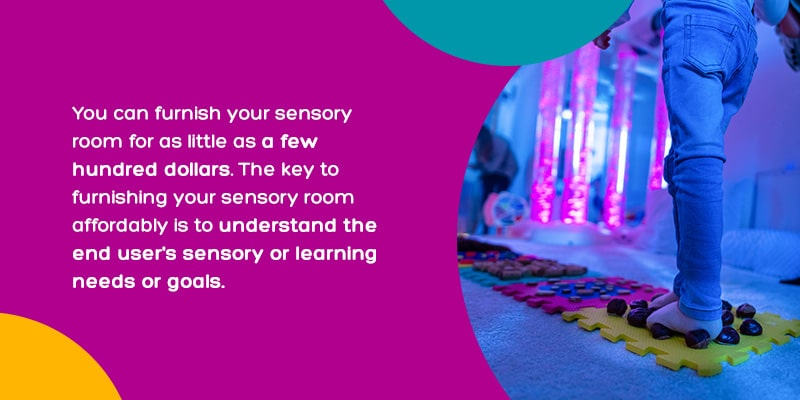 The Cost of a Sensory Room
Sensory rooms don't need to take up a lot of space or feature a lot of equipment to be effective. According to Karen Gallichio, a Product Development Specialist at Enabling Devices, you can create a sensory room using a small 4-foot by 4-foot space. Closets, corners and other small spaces are perfectly suitable for making a sensory room on a budget.
That being said, you might be curious about how much it costs to create a sensory room. You can furnish your sensory room for as little as a few hundred dollars. The key to furnishing your sensory room affordably is to understand the end user's sensory or learning needs or goals.
It's also helpful to partner with a sensory room designer. At Enabling Devices, we offer free sensory room design services to those who need help transforming a space into a sensory room cost-effectively.
Design Ideas for Sensory Rooms
No two sensory rooms are the same. These versatile environments can help kids or adults engage with their senses in many different ways. If you're looking to outfit a sensory room, the sky's the limit. Whether you're building a compact sensory space or a large one, try these sensory room design tips.
1. Offer Different Types of Sensory Engagement
Give kids an opportunity to use as many of their senses as possible. Start with a tactile toy like Fish Play Mats or Fidget Boards that can suit different needs, from tactile-seeking behavior to tactile hypersensitivity. Let them explore spatial awareness through Crash Pads or proprioceptive skills with Gel Lap Pads.
Provide lots of options, so kids can choose the activities that will help them at any given time. One day, they may need visual stimulation. The next, they may be overstimulated and would benefit more from calming activities.
2. Consider Your Lighting
Lighting is a vital part of any sensory space. Getting away from harsh fluorescent lights might be a primary reason to escape into a sensory room for many. Provide soft, cozy lighting.
While you want to avoid overstimulation, you can also use lights to provide just the right amount of intrigue. Mesmerizing Fiber Optic Sprays or a Fluorescent Black Light Carpet can offer visual stimulation without overdoing it.
3. Think About the User's Unique Needs
Consider what your users prefer. This task could be difficult if multiple kids will use the room, but you can still keep their abilities and preferences in mind. For instance, kids who struggle with fine motor skills would likely benefit more from a large, easy-to-handle toy instead of something small and intricate.
Leaning into their preferences can also be a great way to entice kids. If they love sea creatures, Misty the Whale is a calming toy that would be a great addition.
4. Have Fun With Your Décor
As you design a sensory room, keep fun front and center. After all, you want to make a space that kids look forward to using. You may need to balance whimsical, fun decorations with gentle, soothing ones, but products designed for sensory needs can help immensely. If something isn't quite right, you can always change it later.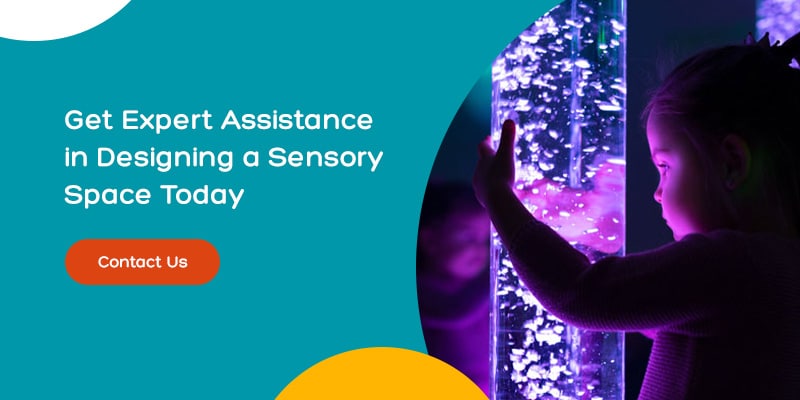 Get Expert Assistance in Designing a Sensory Space Today
Many people often wonder if creating a sensory room is a good investment. We would respond with a wholehearted "yes." Providing your loved one with a safe space to develop and overcome their sensory challenges is an act of love and caring that has been shown to have significant benefits for children and adults.
At Enabling Devices, we are committed to providing products that encourage people of all ages and abilities to live fulfilling, joy-filled lives. Over the past four decades, we have proudly created products that enable individuals with disabilities to function in the world around them. This includes a wide variety of products that work well in sensory spaces.
Rather than mass-producing products, our trained technicians custom-make one-of-a-kind products in our workshop, giving us complete control over the quality of our products. We work directly with parents, caregivers, schools, hospitals, therapists and children with disabilities to develop and test tools and products that meet various needs and improve quality of life.
Besides selling products for use in sensory spaces, we also provide free sensory room design services to help you create a useful area for your loved one. With our complimentary sensory room design services, we help you pinpoint your design needs and select suitable equipment to create an affordable, functional sensory room that meets the user's needs. Fill out our Sensory Room Design Questionnaire to get started and receive your free quote!
If you're ready to incorporate a sensory room into your home or school, we're ready to help. Browse our wide array of sensory products or contact us today to begin designing your new sensory space!