Going on vacation always requires a good deal of planning. You need to arrange flights, drive highways and book accommodations. The process isn't simple, and the logistics become more complex when you or one of your travel companions is living with a disability.
The Americans with Disabilities Act (ADA) prohibits discrimination against people with disabilities. Unfortunately, there are many places that are not compliant and do not provide accessible options for wheelchair users and those with other disabilities. After weeks or months of anticipation, few things are worse than getting to your destination and finding that they can't accommodate a disability. For that reason, we've rounded up the best accessible travel destinations in America.
Accessible Amusement Parks
There's nothing quite like the wonder and thrill of an amusement park. With large crowds and attractions at every turn, it's important to pick an amusement park that has something to offer for those with differing abilities. The following are some of the best accessible places to vacation.
1. Disneyland & Disney World
There's a lot to love about the wonderful world of Disney, whether you're visiting the Walt Disney World Resort in Orlando, Fla., or the original Disneyland Park in Anaheim, Calif. Both parks have a variety of accommodations for guests with disabilities, including parking.
Disney World features separate accessible parking lots for people with personal wheelchairs or other mobility devices. These lots are available throughout the four parks at the resort, although courtesy trams don't stop there. Both Disneyland and Disney World require a valid accessible parking permit and have standard parking rates.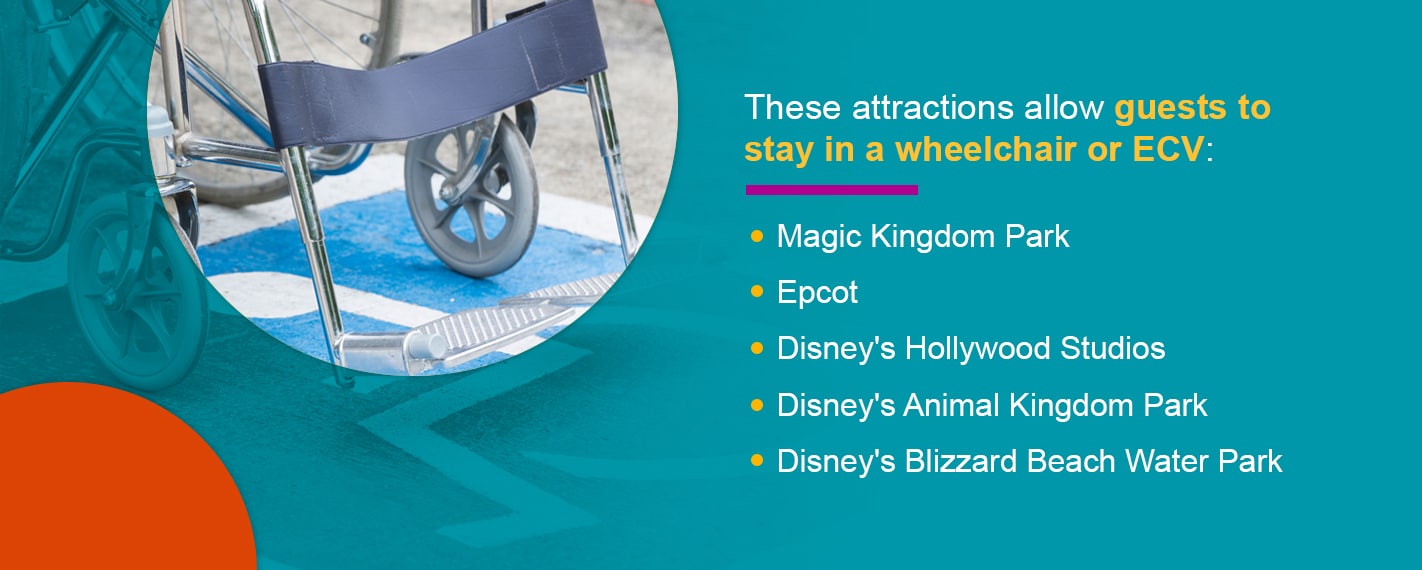 When it comes to wheelchair-friendly attractions, Disney World is unmatched. Guests can choose from more than 40, at three levels of access:
Must transfer from wheelchair or electric conveyance vehicle (ECV) to ride
Must transfer from ECV to a wheelchair to ride
Must transfer from ECV to a wheelchair, then from a wheelchair to ride
The attractions which allow guests to stay in a wheelchair or ECV are found in these areas of the park:
Magic Kingdom Park
Epcot
Disney's Hollywood Studios
Disney's Animal Kingdom Park
Disney's Blizzard Beach Water Park
Disneyland also has an extensive list of wheelchair-accessible attractions located all over the park as well as other services for guests with mobility disabilities.
Both Disney World and Disneyland both have a comprehensive host of services that cater to multiple disabilities. Their services for guests on the autism spectrum and other cognitive disabilities are particularly robust, including:
Advance ticket purchase
Stroller, wheelchair and ECV rental
Quiet break areas
Companion restrooms
Dietary accommodations
Both of the parks' Disability Access Services (DAS) allow guests to schedule their visits to rides and attractions so they don't have to wait in a long queue that could cause distress. With DAS, guests can spend the intervening time exploring the park, enjoying entertainment or even checking out a different attraction while they wait. Other services are available to assist those with:
Visual disabilities
Hearing disabilities
Light sensitivity
Service animals are welcome for those who need them. For visual information on Disneyland's accessibility and what to expect in the park, you can view the Park Guide for Guests With Disabilities. Disney World offers four guides to different sections.
2. Sesame Place
Located in Philadelphia, Sesame Place is a theme and water park based on the beloved kids' show Sesame Street. It also happens to be one of the best vacation spots for wheelchairs. In keeping with the show's reputation for ever-expanding inclusivity, Sesame Place has a robust accessibility program that makes it one of the best East Coast accessible vacation spots. They are the first theme park in the world to receive designation as a Certified Autism Center (CAC).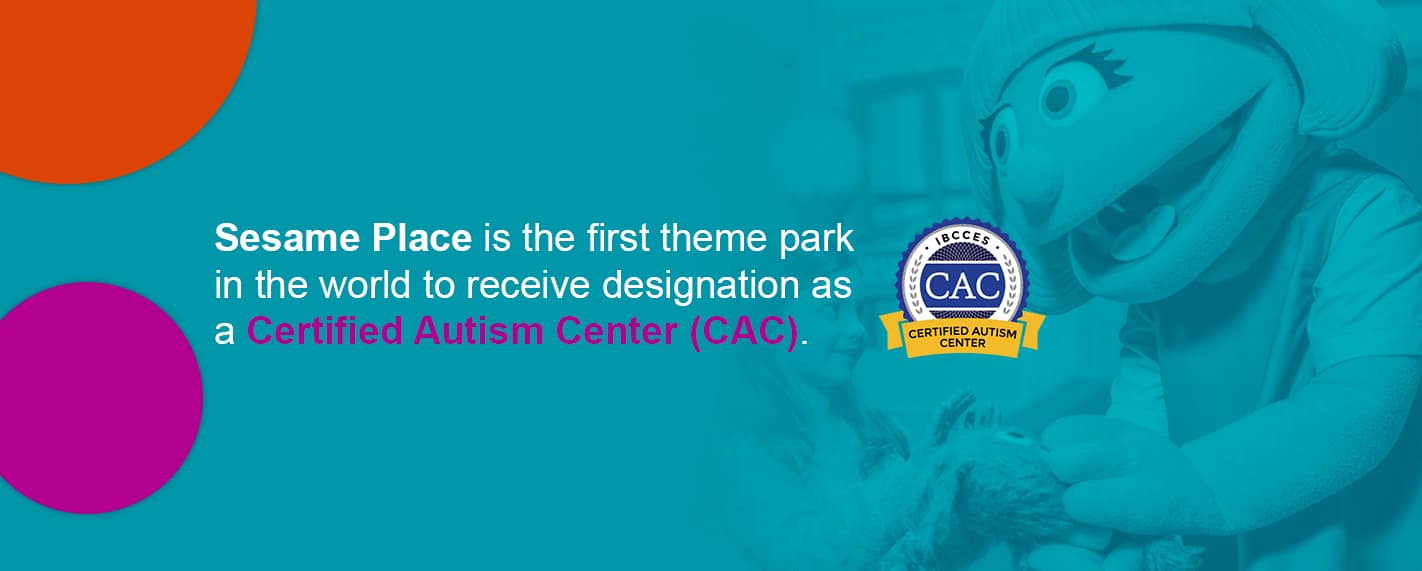 The park has partnered with the International Board of Credentialing and Continuing Education Standards (IBCCES) to ensure guests on the autism spectrum can enjoy the park and have their particular needs met. The staff is specially trained in the following areas:
Autism overview
Sensory awareness
Motor skills
Program development
Social skills
Communication
Environment
Emotional awareness
In addition to a highly-trained cast of team members, Sesame Place has a Ride Accessibility Program (RAP). This unique feature uses a questionnaire to match the abilities of individual guests to each ride. After completing the questionnaire, you can bring it to the park's Welcome Center and receive a personalized list of the rides and attractions that meet your or your companion's special needs. Some of the park's other accessibility services include:
Noise-canceling headphones
Low-sensory areas
Low-sensory parade seating
Show scripts
Sign language interpretation
Wheelchair rentals
Wheelchair parade seating
Sesame Places' Dedicated Sensory Rooms
If you have a child with special needs who may become overstimulated, you can take advantage of two brand new sensory rooms to help them calm down and enjoy the rest of the day. Enabling Devices was proud to partner with Sesame Place in the creation of these rooms and provided many products designed to soothe and engage kids.
3. Morgan's Wonderland
While other theme parks may provide excellent accommodations for guests with disabilities, Morgan's Wonderland was designed for accessibility from the ground up. This non-profit "oasis of inclusion" is situated on 25 acres in San Antonio, Texas.
The founder, Gordon Hartman, was inspired by his daughter, Morgan. Her physical and cognitive challenges were the basis for Gordon's mission to provide a place for special needs people of all ages to experience wonder and joy. The result is a 100% wheelchair-accessible Wonderland.
The success of this ultra-inclusive theme park gave rise to a sister water park, Morgan's Inspiration Island, complete with waterproof wheelchairs available for rental. If you want a completely accessible park, Morgan's Wonderland is the amusement park for you.
Accessible Cruises
There's nothing quite like a cruise to bring on deep relaxation and stoke your sense of adventure. However, navigating a cruise ship with a mobility-based disability can be a bit of a headache if you don't know what you're getting into. Here are three cruises to consider.
1. Royal Caribbean's Symphony of the Seas
The Symphony of the Seas is the place to be if you want to enjoy gorgeous views, gourmet food and stunning shows. It's also an excellent cruise option for those with mobility disabilities. The ship has 46 accessible cabins, which feature:
Doors at least 32 inches wide
No doorsill to get into the room
Ramped bathroom thresholds
Grab bars in the bathroom
Lowered sinks
Roll-in showers
Fold-down shower benches
Hand-held showerheads
Lowered safes
The accessibility of the staterooms is essential, but you don't want to spend your whole vacation in your room. The recreational facilities have several accessibility perks, including:
Lifts at the main pool and whirlpool
Lowered playing tables at the casino
Wheelchair seating in front and back of the Royal Theater, Studio B and Aqua Theater
Braille deck and stateroom numbers
Assistive listening systems in theaters
Amplified phones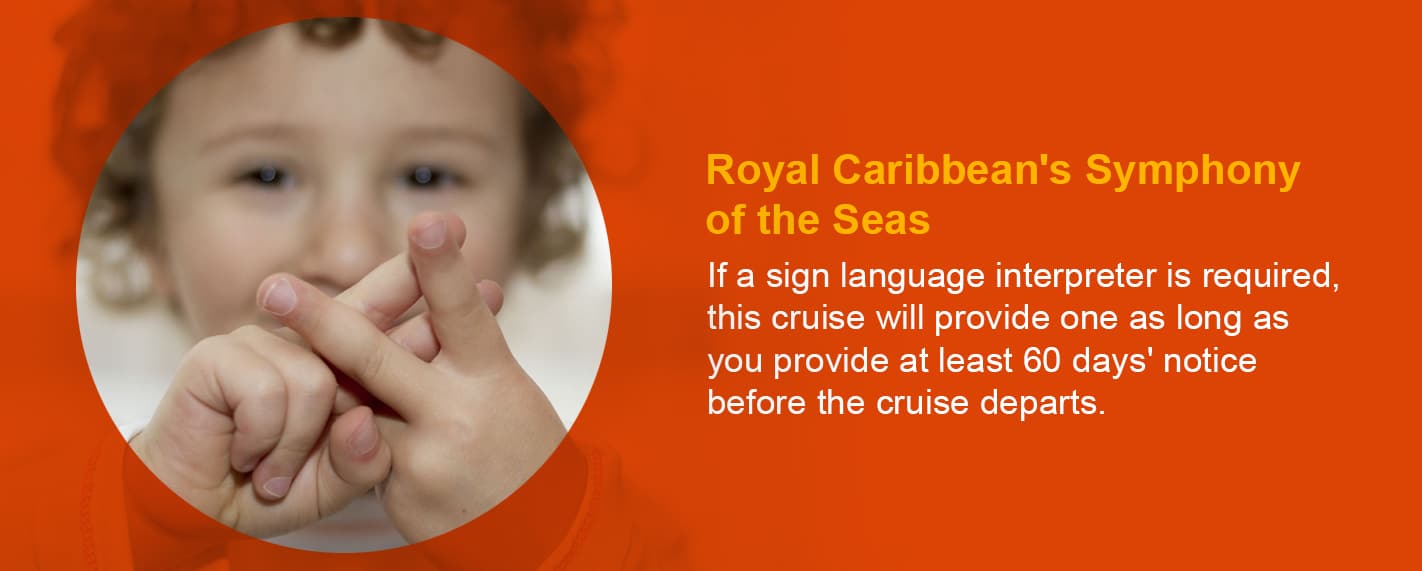 If a sign language interpreter is required, this cruise will provide one as long as you provide at least 60 days' notice before the cruise departs.
2. Disney Cruise Line: Fantasy
You can surround yourself with the trademark magic of Disney by booking a cruise on the Fantasy. This cruise is all about immersing yourself in fun and fantasy and offers some standard disability accommodations. In addition to the same ADA specifications for 25 wheelchair-friendly staterooms and bathrooms inside them, this Disney cruise ship offers a variety of other accommodations, including:
Sign Language Interpretation: The sign language service interprets live theater performances and other shows for the first dinner seating and the late performance in the Walt Disney Theater.
Assistive Listening Devices: For a refundable deposit, guests with mild to moderate hearing loss can use amplified receivers at multiple stations around the ship.
Room Service Texting: Guests can use their phones to text for room service, rather than calling in.
Stateroom Communication Kit: This kit includes an alarm clock, bed shaker notification, alerts for the doorbell and phone, and a smoke detector that uses a strobe light.
Audio Description: You can experience movies in the Buena Vista Theatre with audio description by picking up a receiver at guest services.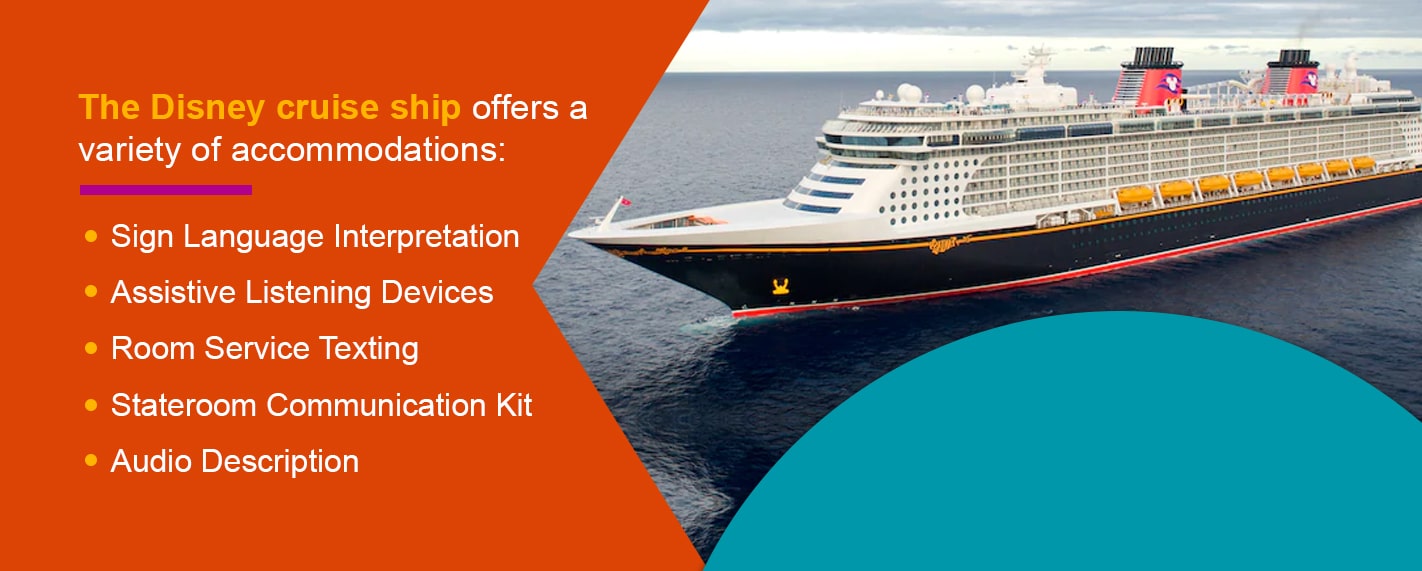 One of the unique features of this cruise line is Castaway Cay. This private Disney island is packed full of adventure and excitement. The island has its own tram for transportation, as well as an accessible cabana. One of the most enticing features is the availability of sand wheelchairs for rental. This opens up a world of possibilities that most other cruises don't offer.
Note that if you require sign language interpretation or the use of a pull lift, you'll have to request these services before you book your cruise.
3. Carnival Horizon
The Carnival Horizon takes a unique approach to staterooms for guests by offering three different tiers of accessible rooms:
Fully Accessible Cabins: These rooms are designed for guests with highly limited mobility. To meet the needs of those who need wheelchairs or scooters, these rooms feature turning space, accessible routes through the room and an accessible restroom.
Single Side Approach Cabins: These rooms feature the same accessible bathroom, but offer an accessible route and clear space for only one side of the bed. In rooms with two beds, one side of each bed is accessible.
Ambulatory Accessible Cabins: These rooms are designed for guests who have some limitations in mobility but who don't use a scooter or wheelchair. They have features such as grab bars to help with balance.
There are 65 accessible rooms altogether. All rooms are assigned on a first-come-first-served basis, so it's a good idea to reserve your accessible room as far in advance as possible.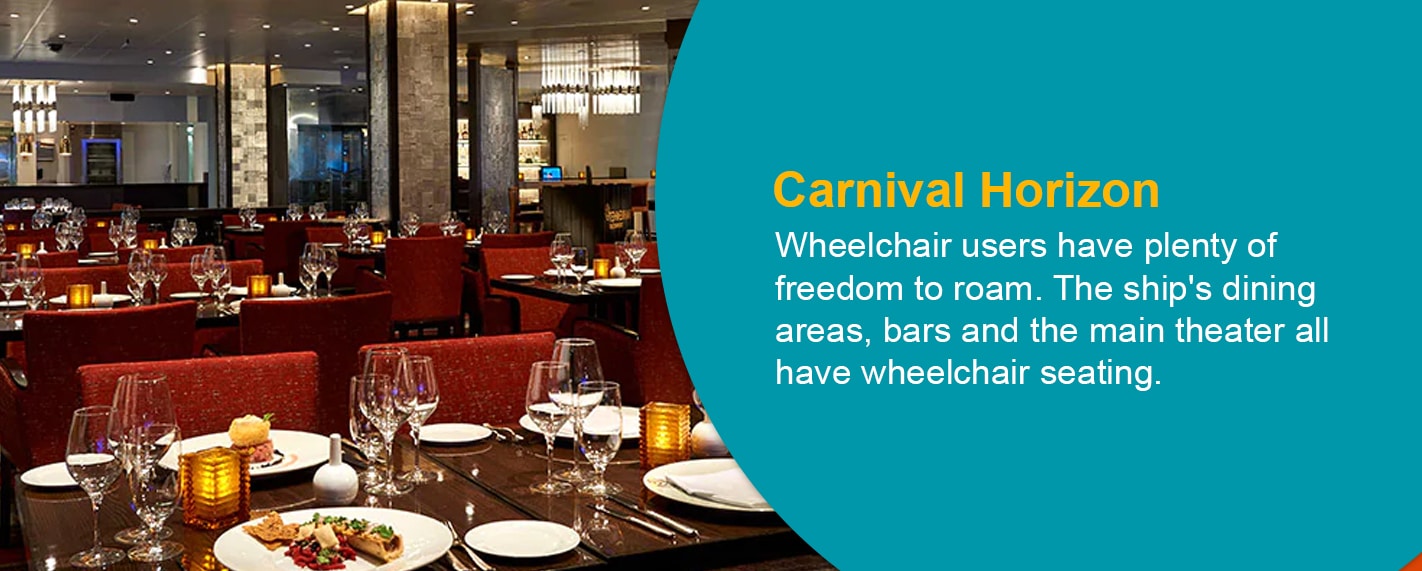 As for the rest of the ship, wheelchair users have plenty of freedom to roam. The ship's dining areas, bars and the main theater all have wheelchair seating. For those with other types of disabilities, Carnival offers these services:
Visual-tactile cabin alert system
Teletypewriter to communicate with Guest Services
Amplifying headsets
Sign language interpreters
Braille signage
Large print format on some publications
Those with working service dogs are permitted to bring them aboard, but you should review all policies and procedures to ensure the dog is up to date on all veterinary requirements.
Accessible Beaches
Beaches are one of the classic places for summer vacations, but beach travel destinations with wheelchair access can be hard to locate. The following summer destinations with wheelchair access are some of the best places to have fun in the sun.
1. San Diego, California
San Diego is known for being one of the most accessible cities for beach-goers with disabilities. Many of the beaches have sand wheelchairs available for free rental, whether powered or manual. The thing to remember is that there's often no reservation for the chairs, and it's first-come-first-served. On some of the more popular, crowded beaches, this can mean having to wait a while for your turn. Here are three of the best San Diego beaches with wheelchair access:
Mission Beach: This is an extremely popular beach where there's always something going on. The most active sections feature people cycling, rollerblading, skateboarding and more. The south end of the beach is quieter, but its parking and bathrooms are not always fully accessible.
La Jolla Shores: This beach is very family-friendly and located a short drive north of downtown. There is a wide paved walkway between the beach and nearby Kellog Park, as well as an accessible bathroom and parking lot.
Imperial Beach: If you're concerned about the chair rental process, Imperial Beach is one of the few that requires a reservation. They have two power chairs available for use on the beautiful beach, and manual chairs you can use with no reservation.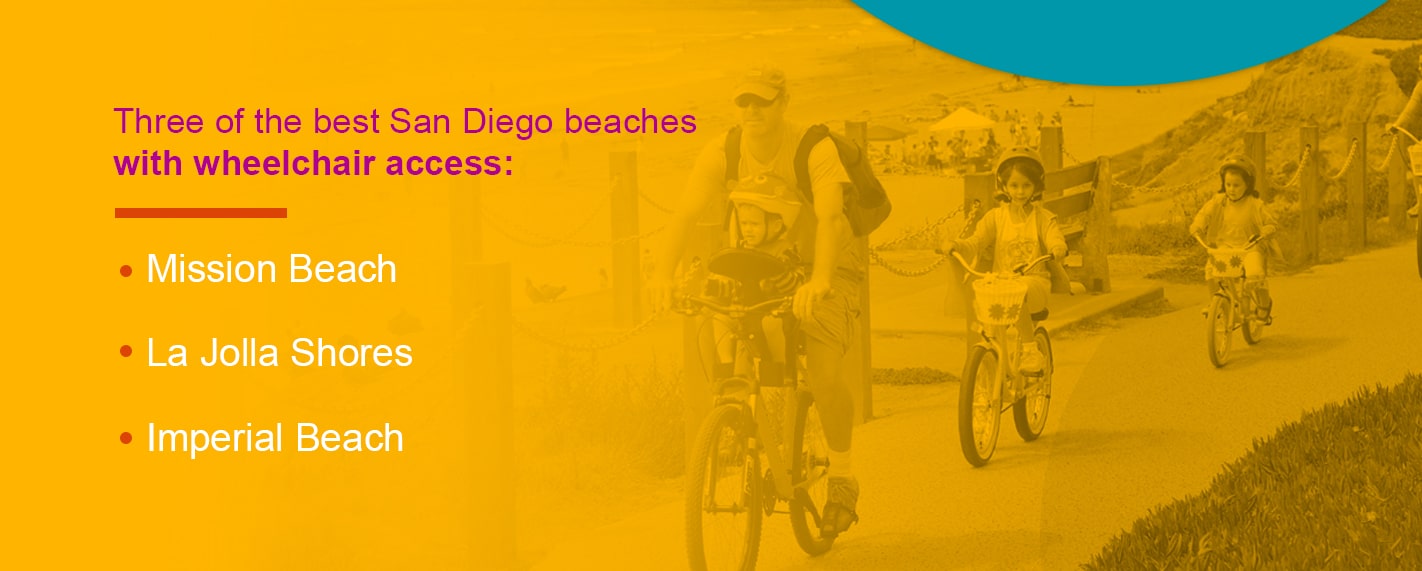 2. Key Largo, Florida
If you're looking for summer destinations with wheelchair access, consider heading on down to Florida to experience Tranquil Adventures. This not-for-profit organization was founded more than 30 years ago by Captain Mick Nealy with the mission of providing accessible boat tours for people with disabilities. As a survivor of polio, Captain Nealy has a unique understanding of what makes an experience magical for people with disabilities.
The dock and both boats are completely accessible to wheelchairs. Equipped with Coast Guard-approved safety measures, each boat can fit four people in wheelchairs and a total of 10 individuals. It doesn't get much more family-friendly than these boat outings. Here are a few of the possible destinations on a Tranquil Adventures tour:
Key Largo Bay
Everglades National Park
Pennekamp State Park
Blackwater Sound
Participants can go fishing or snorkeling, try out island hopping, visit a beach party or stop off at a tiki bar. The combinations are nearly endless, making for a valuable repeat experience.
These tours cost $350 for a four-hour half-day and $500 if you want to make a full eight-hour day of it. As wheelchair-accessible travel destinations go, Tranquil Adventures tours get top marks.
3. Hanauma Bay, Hawaii
Vacationers with a taste for adventure will love Hanauma Bay State Park. This nature preserve has a gorgeous crescent-shaped beach and the very unique appeal of being formed by the crater of a dormant volcano. The soft white sands are both picturesque and ideal for those who need to rent a wheelchair to traverse the beach. The balloon-tired beach chairs are available free of charge from 8 a.m. to 4 p.m. all year.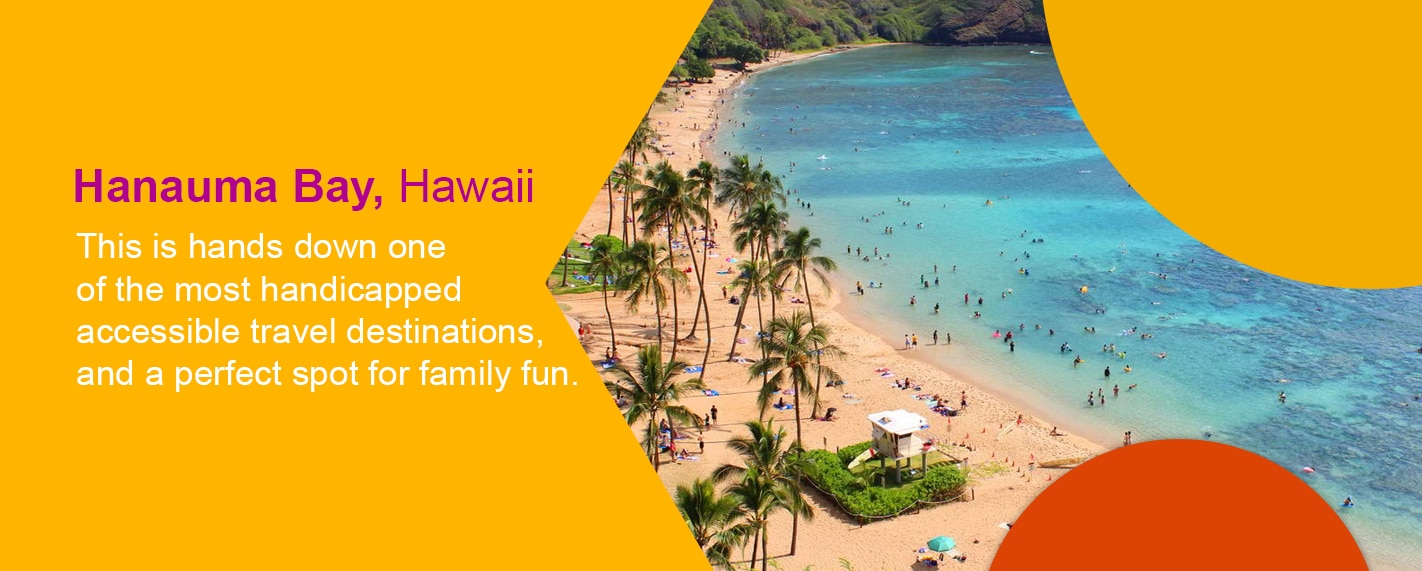 A tram takes visitors to and from the beach area, and it has a ramp to accommodate wheelchairs. Additionally, city buses have kneeling capabilities so you're not limited to the beach in your exploration. All of the Bay's facilities have been designed with accessibility in mind.
Activities are not in short supply at Hanauma Bay. Some of the things to do include:
Snorkeling
Catamaran tours
Wild dolphin watching
Island tours
Luaus
Sunset dinner cruises
Helicopter tours
This is hands down one of the most accessible travel destinations, and a perfect spot for family fun.
Accessible National Parks
Many people assume that they'll have to cross national parks off the list of accessible destinations since they often require a lot of hiking and other activities unsuitable for those with disabilities. However, several national parks make great accessible vacation spots. Additionally, if you're a U.S. citizen and permanently disabled, you can get an Interagency Access Pass for lifetime free admission. The three parks below are definitely worth a visit.
1. Grand Canyon National Park
Arizona's Grand Canyon is undoubtedly a destination worth seeing in your lifetime, and the park has made it easy for wheelchair users to plan an unforgettable trip. The park has a variety of accessible facilities including:
ATMs
Bookstores
Restrooms
Gift shops
Dining areas
Lodging and campgrounds
Shuttle buses
Teletypewriter
If you need a sign language interpreter, give the park at least three weeks' notice and one will be provided. The park also offers a cell phone tour and has wheelchairs available for rental at both the North and South Rim.
The park has several wheelchair-accessible trails and multiple scenic drives where you can take in a gorgeous vista without leaving your vehicle. Scenic drive accessibility permits are available for visitors with mobility issues. You can enjoy a variety of activities such as a wheelchair-accessible tour of an ancestral Puebloan village or a visit to the Yavapai Geology Museum. To get the details on which trails and facilities are accessible, as well as rules for bringing a service animal, check out the park's Accessibility Guide.
2. Zion National Park
Located in Utah, Zion National Park makes camping and immersing yourself in nature easier. There are multiple campsites set aside for visitors with disabilities, and service dogs are permitted throughout the park as long as they are leashed. The ranger program schedule indicates which programs are accessible, and you can reserve assistive listening devices for any program.
The park has multiple trails suitable for wheelchair users, with the Pa'rus Trail being the most accessible. The trail is fairly short at 1.5 miles long and has a smoothly-paved width of 8 feet so wheelchairs can roll right alongside walking visitors. The Riverside Walk is also a good option, as the first 0.4 miles are accessible. In addition to the trails, these other park attractions all offer some degree of accessibility:
Canyon Visitor Center
Human History Museum
Kolob Canyons Visitor Center
Canyon Transportation
Zion Lodge
Picnic areas
Watchman Campground
Zion National Park is an excellent option if you're looking to immerse yourself in Utah's natural beauty.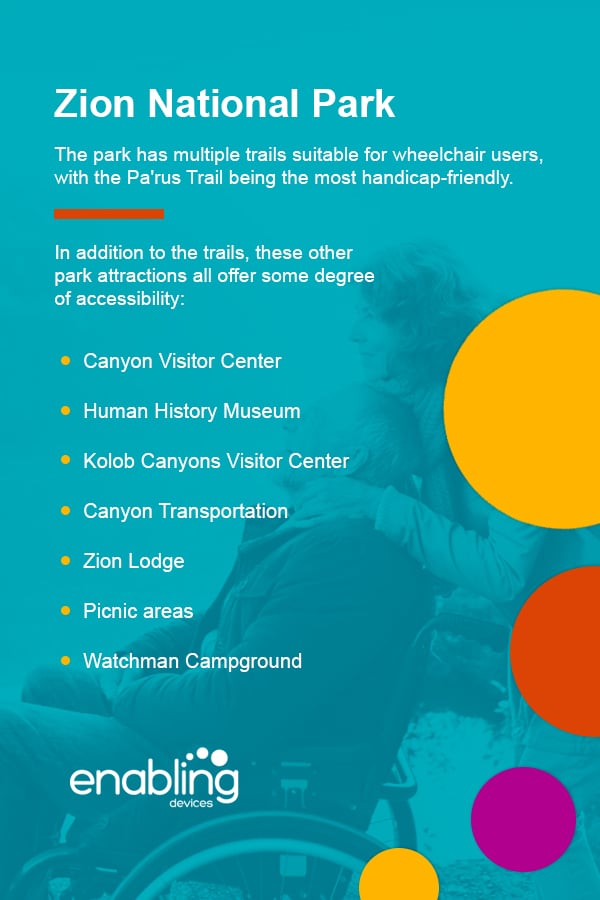 3. Everglades National Park
At a whopping 1.5 million square acres of tropical and subtropical habitat, the sheer size of the Everglades National Park means some parts of it are inaccessible. However, plenty of sites and trails are available for those with mobility disabilities.
The Royal Palm Visitor Center is the best place to start. From clearly marked spots with accessible parking to trailheads and a store accessible by curb ramp, this part of the park is one of the best accessible vacation spots. This area has two accessible trails:
Anhinga Trail: This trail is 0.8 miles long round-trip, making it ideal for those who prefer a short jaunt into nature. The abundance of wildlife, from alligators to anhingas, makes this a popular destination.
Gumbo Limbo Trail: This trail is even shorter at 0.4 miles round trip. It is paved and meanders through a shady covering of gumbo limbo trees.
These paved paths do sometimes have mild to moderate cracks in them, but they are not disruptive enough to prevent the average wheelchair user from enjoying the trails.
If you'd like to venture into the heart of the park, Shark Valley is the place to do so. The road here is flat and paved, and there is a wheelchair overlook along the path. It's also home to the Bobcat Boardwalk, a sensational place to get views of the marsh.
Enhance Your Vacation With Enabling Devices
If you're traveling with a child or other individual who has special needs, accessibility is just the beginning. Enabling Devices is committed to providing a huge selection of products for people with disabilities, from communication devices to sensory products. If you need adapted toys, games or other devices to make your vacation time easier and more engaging for a disabled individual, we invite you to browse our selection of products and learn more about our services.