"Play is the highest expression of human development in childhood for it alone is the free expression of what is in a child's soul." —-Friedrich Froebel
In 1837, German pedagogue, Friedrich Froebel opened the Play and Activity Institute in Bad Blankenburg, Germany. Three years later, the name of the school was changed to Kindergarten. The rest is history.
Like Froebel, Enabling Devices founder, Steven E. Kanor, Ph.D. believed passionately in the importance of play for all children regardless of physical, emotional or cognitive differences. Now, Steven's son, Seth, the company's new CEO, is continuing his father's noble mission.
Yet, "the simple pleasures and joys that children experience running, playing and enjoying a sunny day are sometimes not available for children with special needs," notes the Hidden Angel Foundation. "Due to limitations, they don't experience or are unable to interact with their surroundings, limiting their sensory experience."
Sensory rooms provide an antidote to this dilemma by creating opportunities for children [as well as adults] of all abilities to experience the joys and pleasures of freedom, safe exploration, learning and play.
"Sensory rooms are spaces where children and adults can explore their environments through visual, auditory and tactile experiences," explains Karen Gallichio, Product Development Specialist at Enabling Devices.
"They offer highly individualized experiences and serve individuals with a variety of disabilities including autism spectrum disorders, developmental disabilities, post-traumatic stress disorders (PTSD), cerebral palsy and sensory processing disorders." In fact, notes Gallichio, sensory rooms are wonderful for anyone who wants to relax, regardless of abilities.
There is great variability in the design of sensory rooms.  Typically, they include any combination of products including swings, LED light illuminators, bubble tubes, bead chain curtains, musical and tactile toys, sensory wall panels and comfortable seating such as beanless bag chairs.
Gallichio is partial to fiber optic sprays (catalog item #3954), color-changing strands that create a beautiful and mesmerizing effect for a sensory space. "They are both visually stimulating and tactile," says Gallichio, "Depending on how they are used, fiber optic sprays can be calming, stimulating and interactive."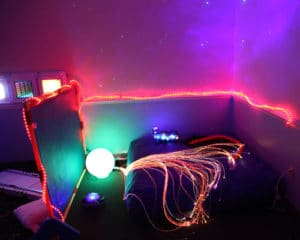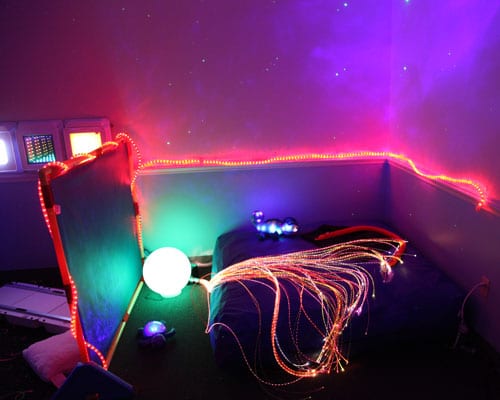 "Professionals using the rooms and the equipment [in rooms] will tailor them to the specific needs of their clients," she adds.
The benefits of sensory rooms are many. In addition to developing the senses, they encourage communication and social interactions, relieve stress and anxiety, help children with self-regulation, increase focus and concentration and reduce aggression by creating a feeling of calm and well-being, notes Gallichio.
"Sensory rooms also give the child a sense of control over his or her environment," she says.
Sound too good to be true? Actually, furnishing, affording and finding space for a sensory room is easier than you may think.
Sensory rooms don't require a great deal of space. According to Gallichio, an area as small as 4'x4' is plenty large enough to accommodate a sensory room. Some sensory rooms are set up inside closets and corners; others are created in children's play tents. The best news? Sensory spaces don't have to be pricey. Gallichio says it is entirely possible to furnish them for as little as a few hundred dollars.
Get Started with Sensory Room Design from Enabling Devices
Need help getting started? Don't stress. Enabling Devices offers free sensory design services. Just complete our Sensory Room Design Questionnaire and we'll contact you within 48 hours with expert advice. Planning a fundraising campaign to finance your sensory room? Check out Enabling Devices' Fundraising Ideas for a slew of great ideas.