If it's springtime it must be baseball season! For baseball-lovers young and old, a trip to the ballpark is one of the great joys of spring —especially when the home team wins! For young [and young at heart] baseball fans, playing the game can be equally joyful. According to the Aspen Institute's Project Play, "participation in sports by children and adolescents is associated with a range of documented physical, emotional, social, educational and other benefits that can last into adulthood."
But, all too often, youngsters with disabilities are left on the sidelines.
In recent years, a movement to make sports more inclusive has gained traction. Yet, despite good intentions, and modifications to the Americans With Disabilities Act in 2010, many recreational facilities, including ball fields, still don't accommodate children with mobility challenges, visual impairment and other disabilities. Even when settings are completely accessible, children with disabilities may remain isolated because of the fears and misconceptions of typically developing peers. Fortunately, an organization called The Miracle League is changing that, one community at a time.
It all started one day at the end of Little League season in Conyers, Georgia in Rockville County, recalls The Miracle League's national program director, Stephanie Davis.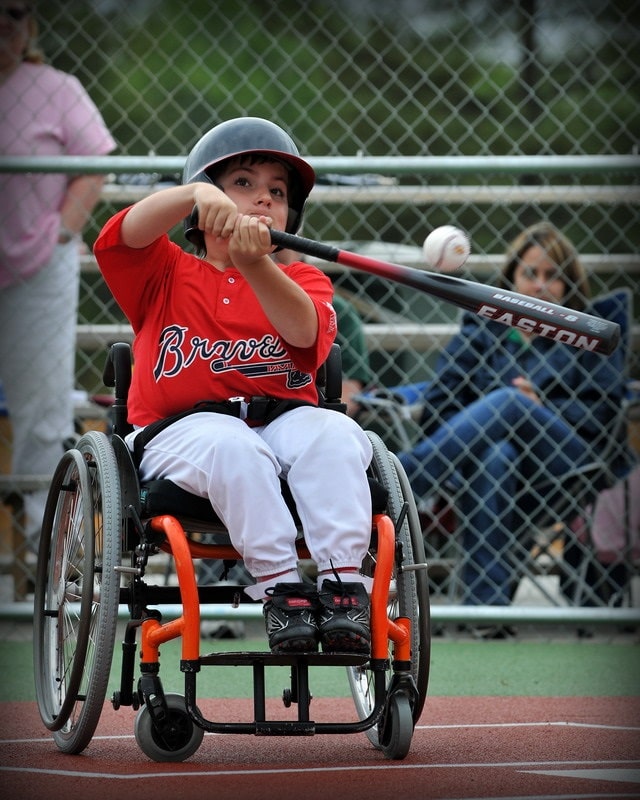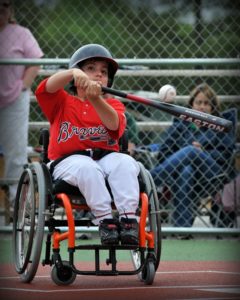 "There was a little boy on the community's little league team who had a brother who was in a wheelchair. The brother came to every single game and every single practice his brother played in, watching and cheering him on."
One day, says Davis, the coach invited the team's most loyal fan on to the field to play. Soon after, it was announced that a new league for children with disabilities was being organized for the following year. The next season, 35 children were signed up and ready to play.
In most ways, says Davis, the league operated in the same way as traditional little leagues. The teams played for six to eight weeks in the fall and spring, wore uniforms, made plays and rounded the bases. In other ways it was different. Rules were adjusted to ensure that every player got plenty of game-time, players were always safe on base and everyone was considered a winner in every game. Each player was assigned a buddy— a middle school, high school or adult volunteer— who would help him or her during the game.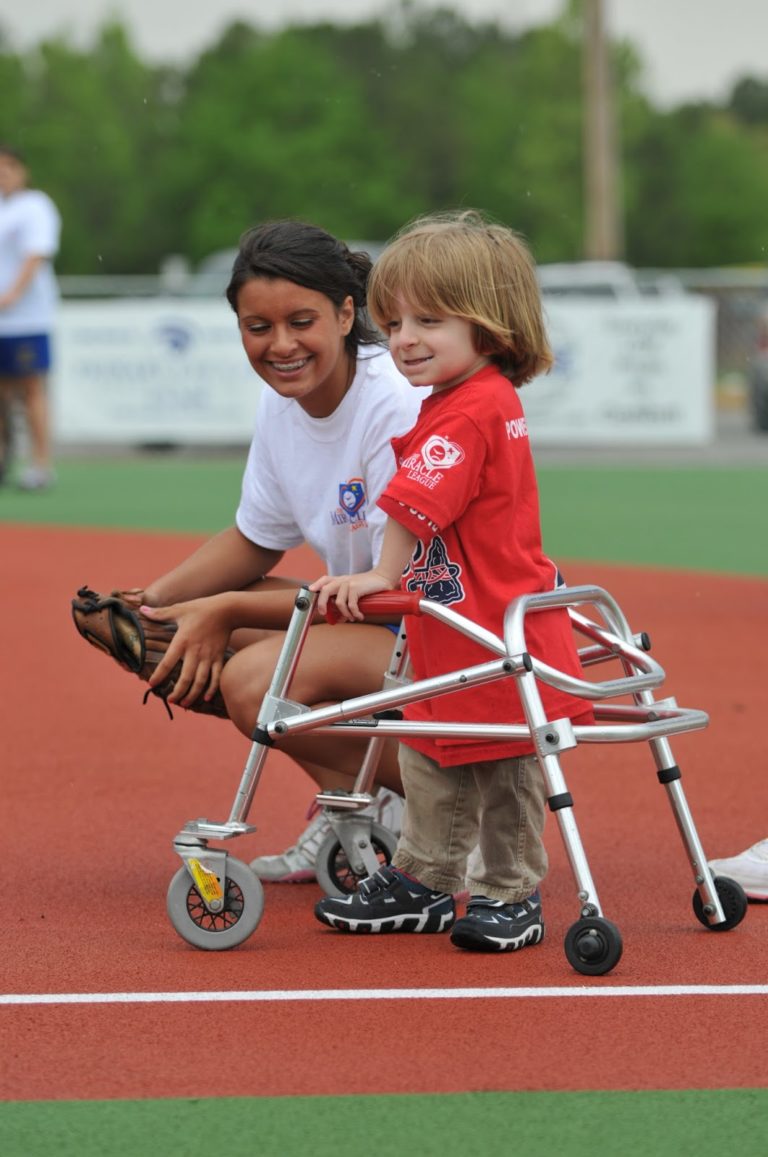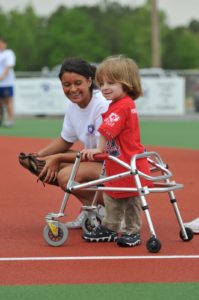 In spite of all the fun, there was still a problem. The baseball field wasn't accessible to children with walkers, canes or wheelchairs, and team members, many of whom were medically fragile, faced risk of injury. Enter: Dean Alford and his sister, Diane Alford, the program's current executive director and cofounder.
"Dean [now The Miracle League's chairman] came up with the idea of building a fully accessible field," says Davis.
Recognizing that the project would be very expensive, Alford went to his fellow rotary club members and convinced them to spearhead the fundraising effort. The Rockville Rotary Club was joined by the neighboring Conyers Rotary Club and together, they formed the Rotary Miracle Fund, Inc., a 510(C)3 with two objectives:
"To raise funds to build an entirely accessible complex for Miracle League players, and to assist other communities to build accessible complexes in their communities."
The first Miracle League complex, completed in 2002, was built with a cushioned rubberized surface that is completely flat to accommodate wheelchairs and to ensure the safety of visually impaired players. There are wheelchair accessible dugouts and bathrooms, a concession stand and a designated picnic area.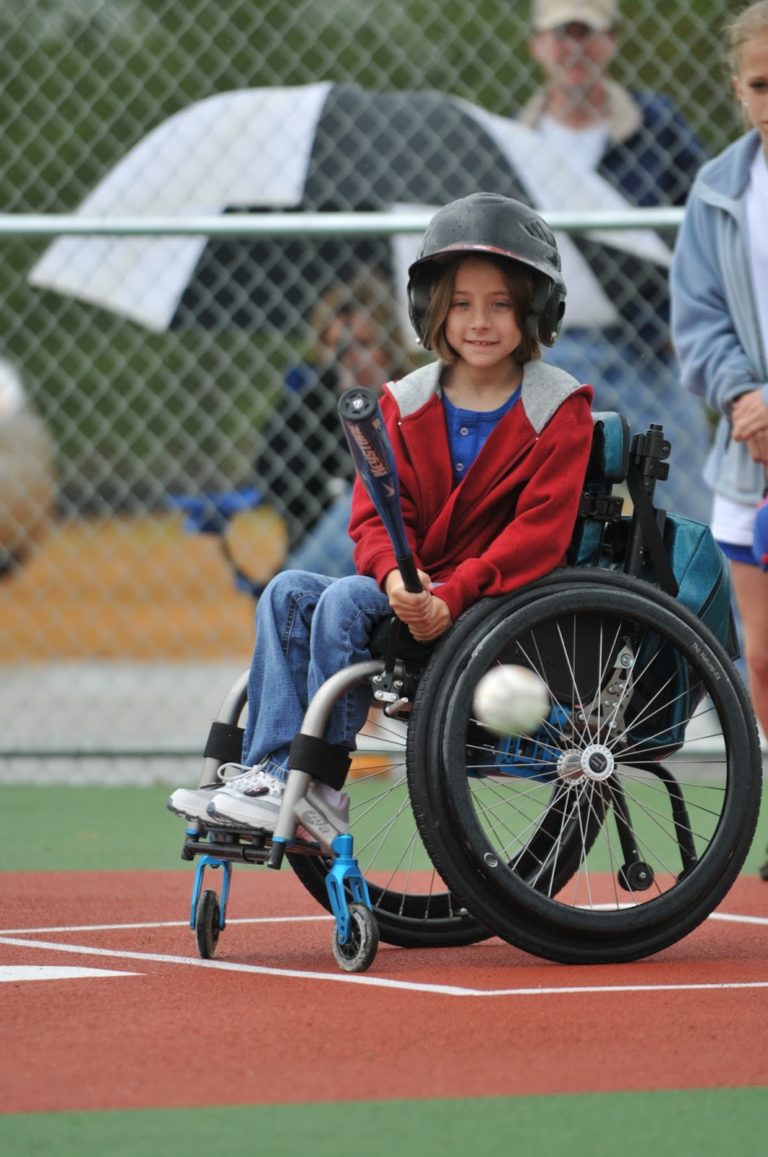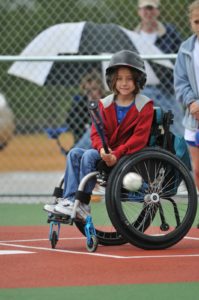 Thanks to media coverage and word of mouth, news of The Miracle League and its new complex spread. Other communities wanted accessible baseball fields and complexes too. Today, Miracle Leagues exist in 270 communities and Miracle League accessible ball fields have been built in more than 150 communities.
"The Miracle League's main program is just for fun," says Davis. "Everyone plays together. But we also have a more competitive league for kids [and adults] who become really good baseball players."
The League includes players with a variety of disabilities, says Davis. "We have players with everything from ADHD, sensory disorders and autism to Down Syndrome, visual impairment and cerebral palsy to children who are paralyzed and non-verbal."
Though the program was originally created for children, it has evolved to include some adults.
"We had a 35-year-old walk on the field for the first time. Although he was 35, he was functioning at the level of a young child. He had never played baseball before. How could we say, "no," asks Davis, who adds that some leagues, such as one in New York, is large enough to accommodate separate teams for children and adult players.
The Buddy Program is one of the best parts of The Miracle League, Davis says. All of the players are paired with typically developing middle school students, high school students, and adults.
"This is not a therapeutic program," she says. "We like to keep everything normal. It's just baseball. The 'buddies' do watch safety videos and we like to have them meet up with parents before the season starts. The parents are the experts. The 'buddies' does whatever the child needs—wheels him around the bases, helps her grab the ball if she can't reach it. Once they do it once, they get it," says Davis.
"The program really changes family life," Davis continues. "The children feel like they're part of a group. Instead of being segregated, they are being invited to birthday parties, and to sit at the lunch table at school. Through the program, the buddies learn that the kids with disabilities aren't really so different than they are. They get to know each other and they become friends."
Interested in having a Miracle League program and an accessible ballpark in your community? Davis says the organization "handles everything from A to Z. No community is too small," she adds. "We provide all the tools communities need to fundraise and we connect donors to communities."
For more information, visit themiracleleague.com.