On May 23rd, 2016, William Snyder of Baltimore will celebrate his 13th birthday. Turning 13 is a major milestone for most youngsters, but for William, it is especially meaningful. At the tender age of fifteen months, William, the son of Lori and Ron Snyder and big brother to 9-year-old twins,  Megan and Marissa, was diagnosed with a brain tumor. After enduring multiple hospitalizations, chemotherapy and surgeries, William's cancer went into remission. Mercifully, he has remained cancer-free the past eleven years.
Today, William loves baseball, roller coasters, swimming and many other pursuits. But the cancer left William with some significant challenges. He is deaf in one ear and hard of hearing in the other, has learning disabilities, developmental delays and periodically, William experiences seizures.
"Once he was old enough to remember the seizures, William developed a fear of sleeping in his own room," recalls his father, Ron. So, for about two years, William slept on a mattress in his parent's bedroom. Though William's fears were completely understandable, Ron and Lori realized they needed to come up with a better solution.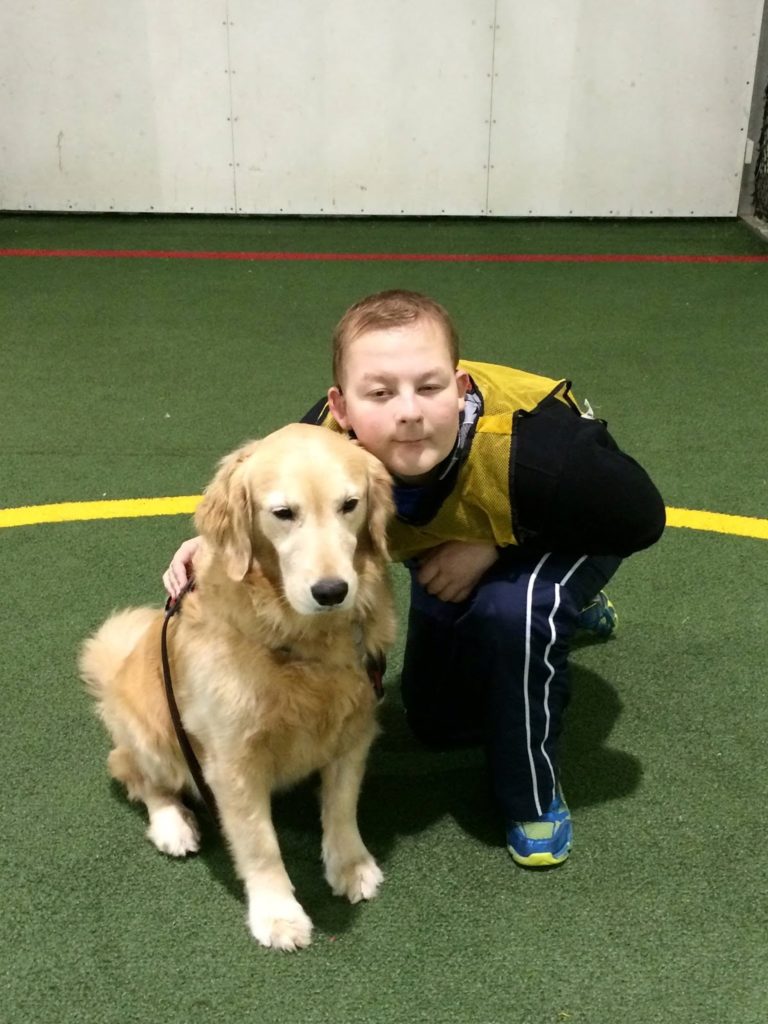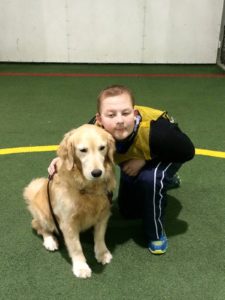 After doing some research, they discovered 4 Paws for Ability, a nonprofit organization based in Ohio, that trains and places service dogs with children with disabilities. At first, Ron and Lori didn't think William would be a candidate for a service dog since he wasn't blind or visually impaired. Then they learned that service dogs are trained to work with children who have all kinds of special needs. There are service dogs for children with seizures, autism, diabetes, mobility disorders, hearing impairment, fetal alcohol and drug syndromes and multiple disabilities. 4 Paws also provides service dogs for disabled veterans.
4 Paws seemed like the answer to their prayers. Yet, the Snyders had lots to do before they could bring William's service dog home to Baltimore. "It costs $20,000 to fully train a service dog," Ron explains. "We had to raise $13,000 of the $20,000 to qualify." So the family got to work. "We collected online donations, hosted a bull roast, had car washes, raffles … It took about a year to raise the money. Then we were on a waiting list for another year."
In the year prior to bringing Asha, a female Golden Retriever home, the Snyders helped trainers in Ohio to prepare her to work with William.
"When William would have a seizure, we would send the shirt he had been wearing [while having the seizure] to Ohio. The trainers would give it to Asha, so that she would become accustomed to William's smell. She was taught to bark to find help and learned to stay by her young master's side and comfort William while he seized.
Finally, the big day came. On Dec. 12, 2012, the whole Snyder family boarded a plane to Ohio, where they would meet their new family member for the first time. They stayed for two weeks, participating in training and learning how to care for this very special dog.
"It was an instant connection," Ron recalls. " Right away, William felt more secure. As soon as we got home, he began sleeping [with Asha] in his own bedroom."
Asha goes everywhere with William, says his father. "Whether it's school, field trips, restaurants, vacations – even to Oriole Park for baseball games! She's very protective and a great way for William to make friends. Kids love her."
Asha even knows the difference between work-time and playtime, he adds. "When she has her vest on, she's professional,—it's like her uniform— and when she takes it off, she knows it's time to play."
With Asha beside him, William has the freedom to go about his life independently. "She gives him the confidence he didn't have before. Most of all, she's his friend."
Did you know that Enabling Devices offers products for disabled pets, pet owners with disabilities and service and therapy dogs? Visit our website for more information.