If you're looking for toys that fit the unique needs of individuals with disabilities, Enabling Devices offers trusted, adaptive solutions. Our toys are specially designed to engage children with special needs and help them have fun as they explore. With switch-activated toys, users can learn cause and effect and build their comfort with new sensory input.
Tailoring Play to Functional Needs
Children and adults with disabilities understand and discover the world differently than people without disabilities, but many toys and products don't cater to their needs. With an adaptive toy, play is more accessible for individuals with disabilities who want to explore the world. They also help loved ones join in on the play and learn about how the person sees the world and processes information.
Toys that engage the senses in a safe, comfortable environment help those with functional needs engage with their environments on their own terms. These toys let kids and adults experience new sensory input while still in control, making the experience less scary and more relaxing for them. They also provide stimulation for sensory-seeking individuals.
Types of Accessible Toys Available From Enabling Devices
To accommodate the unique ways adults and children with disabilities play, we sell a large selection of accessible toys. The major types of toys we offer for individuals with disabilities include:
Switch Adapted Toys and Switch Activated Toys
An adapted toy activates with an external capability switch. Adaptive switches let children and adults with disabilities engage with electronics by using a button press, eye blink, mouth puff or other motion. The user can use their switch to tell the toy to move, make sounds or flash lights. Using an adaptive switch, kids can also enjoy popular traditional toys, such as toy cars, interactive plush toys, board games and early learning toys just like their peers.
Switch activated toys are unique products that can help many individuals with different disabilities have fun, learn new skills, strengthen existing skills and become more comfortable exploring new sensory experiences. Enabling Devices designs and builds toys with specific learning goals in mind. For example, a toy might be designed to help eye-tracking skills, improve fine motor skills or reward certain actions. Others are designed to meet a wide range of needs and sensory-motor abilities.
Sensory Toys and Products
Sensory toys and devices for individuals with functional needs stimulate any of the five senses for therapeutic benefit. Some products are designed to relax and soothe, while others are designed to engage the user or acclimate the user to sounds, lights, vibrations and textures. Sensory products can be useful for children with auditory, visual or tactile sensitivities.
These children's toys let the user get used to certain sounds, lights and colors in a fun and exciting way, which may help them feel calmer when facing new stimuli in a different environment. Toys and games for kids with autism or functional needs help them enhance their senses while meeting their needs. Ask us about our sensory room design and quote services for help creating the ultimate sensory space.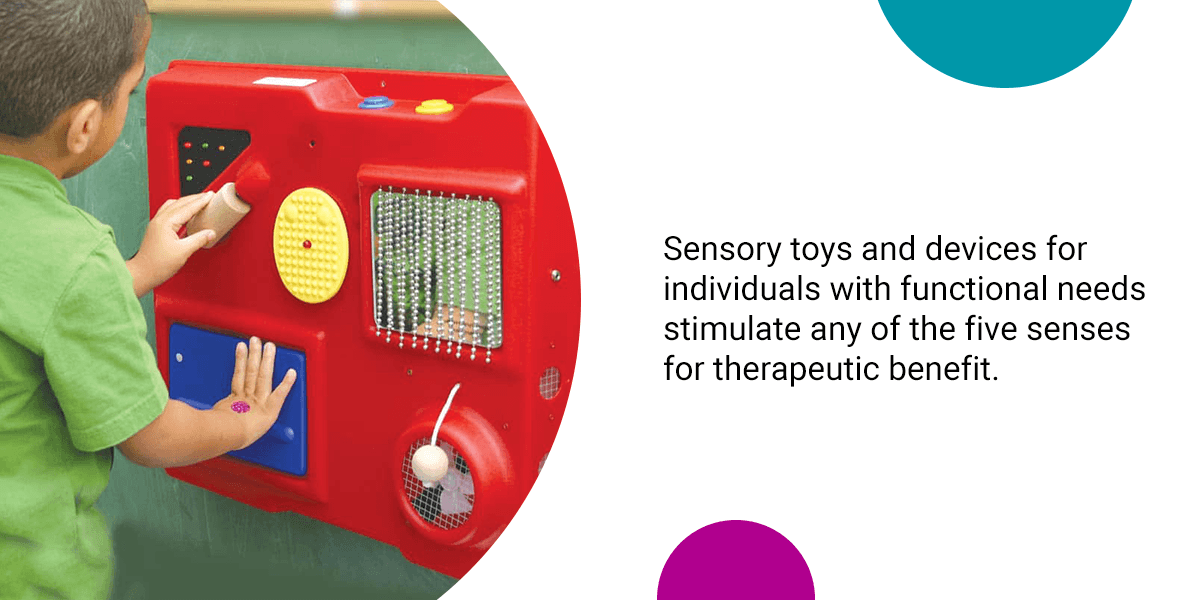 Soft Play Sensory
Soft play toys and cushions create a comfortable and safe place for someone to play and relax. They can provide a tactile experience or offer protection for a child who needs extra cushioning. They're an ideal way to help someone enjoy play in an environment that reduces anxiety and frustration. With a more comfortable place to play, individuals can better engage with sensory stimuli and focus on learning.
Communication Devices and Development Products
Communication devices enable children and adults who are non-speaking to communicate. These special needs tools not only give them a voice but can also be used as teaching tools, building a person's language skills starting with one message, moving on to two message choices and so on. Many of our products also make communicating fun with bright colors, custom recorded messages and tactile experiences. People of all ages and abilities can use these devices to communicate with others.
Benefits of Play for Children and People With Disabilities
Everyone learns through play, and playing lets people with disabilities learn skills on their terms. Accessible toys and products offer a number of benefits.
1. Communication and Social Skills Development
Play lets children and adults with disabilities communicate and share with others. If someone can't express their feelings through language, they can show their reactions to sensory toys and new experiences. Playing with others lets people learn social skills and see how others share ideas.
2. Sensory Stimulation and Calming
Individuals with sensory processing disorders can feel over or under-stimulated easily, causing anxiety, focus issues or hyperactivity. Fidget/"stim" toys and sensory toys offer the stimulation or relaxation needed to feel calm and focused.
3. Motor Skills Development
People with disabilities can improve their fine and oral motor skills through play. Toys that encourage grasping, eye-hand coordination, chewing and manipulating the mouth help someone develop these capabilities and strengthen their muscles.
4. Visual Tracking and Attention
Visual impairment and low vision make it challenging to keep track of an object's position. Devices and toys that are brightly colored and make enticing sounds promote visual tracking and attention. Specially designed adaptive switches also help people with visual impairment play with toys, activate devices and use technology.
5. Cognitive Development
People with disabilities can use a wide range of tools and devices, including switch adapted toys, to stimulate their minds and learn concepts such as cause and effect, directionality and object recognition. Some toys introduce letters and numbers, or animals and their sounds, or body parts. Adaptive toys help people with disabilities take important steps toward future learning. They can also build sensory-motor skills needed for handwriting or keyboarding, for example, in preparation for school.
When and Where Can Children Use These Toys?
Children with disabilities can use products, toys and devices from Enabling Devices anywhere! Special education classrooms stock a range of products for their students. Parents also have toys at home and for on-the-go to both keep their kids entertained and reinforce skills taught in the classroom or in therapy. Toys can be used to help focus, calm or comfort a child in a new situation.
Toys and devices from Enabling Devices are helpful tools to have when traveling, visiting public places or taking children with disabilities to a new location where they may feel overwhelmed or over-stimulated. From noise-canceling headphones to toys and games that provide a pleasant distraction, kids can use our devices to make the world more comfortable and accessible for their needs.
What Custom Options Does Enabling Devices Provide?
Everyone should have the chance to play with the toys and devices they like and need. If you have a certain adapted product in mind but can't find it, our design experts may be able to help. We design and manufacture many of our products right here in the U.S.A. Because we do it right here, we can sometimes accommodate modifications of existing products or the creation of a custom product for our customers. Contact us to learn more.
Whatever options you're looking for, we're here to provide trusted solutions so children and adults with functional needs can experience play for themselves. Our team understands each individual is unique, and we're committed to creating toys and devices that match those unique needs. Our goal is to provide switch-activated and other special needs toys to help each adult and child with a disability play, learn and interact with the world.