Imagine knowing what you would like to say, but not being able to say it? Thanks to augmentative and alternative (AAC) devices, many children and adults with communication disorders are finding their voices.
POSM (patient operated selector mechanism), a "sip-and-puff typewriter controller" in 1960 and the "Comhandi, an electronic letter board" a few years later, twenty-first century technology has taken AAC to an entirely new level.  Today, individuals who are non-verbal or unable to speak clearly due to autism, deafness, developmental disabilities, cerebral palsy, strokes, vocal and swallowing disorders have many options for self-expression.
When choosing a communication device, it's essential to take the user's individual needs into account. Not every communicator is appropriate for every person. If you're unsure what kind of device to purchase, consult with a therapist, special educator or reach out to the folks at . We'll be happy to point you in the right direction.
For the beginner
Is basic communication what you're after? These one and two message communicators are easy to use. Record songs, jokes and greetings. Use them at home, work, to start a conversation, or to order at a restaurant. Learn to activate one or two messages, then move up to three, four or six!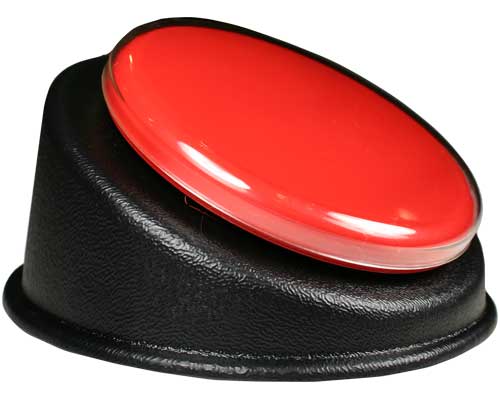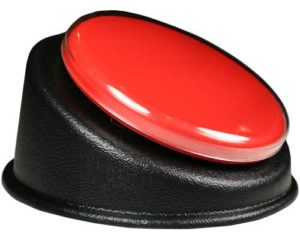 This basic communicator records one 20-second message. Big Talks come in five colors and also act as a switch that can activate another device.
Talkable II #2400
This basic communicator records two messages of 20 seconds each. Includes built-in holder to display a word, picture or icon. Also available as Talkable III (records three messages) and Talkable IV (records four messages) and Talkable IV with 12 levels. Each level has room for four 6-second messages.
For the visually impaired
Bright lights and colors, high contrast, and easy to recognize textures make our communicators for the visually impaired easy to use.
Talkable II for VI # 2600
Our Talkable II for the visually impaired is purposely designed with two different colored switches, each outlined in black, to make finding and activating the device's switch easy to locate.  The Talkable II features 20 seconds total recording time. Users can record one or two messages. This communicator is also a good choice for users who have difficulty with fine motor control.
Cheap Talk 6 for VI #6056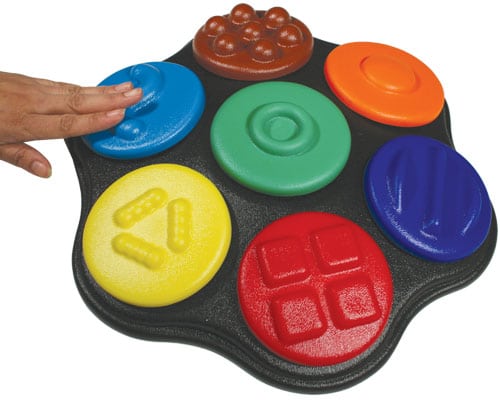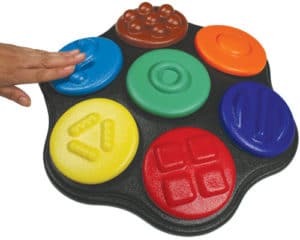 This communicator's bright red and yellow switches make it easy for visually impaired users to find and select their pre-recorded messages. With six levels, the Cheap Talk 6 provides up to 225 seconds of recording time.
Totally Tactile Communicator #2046Y and #2046
This communicator is a great choice for those new to communication devices or who prefer using touch to select the device's pre-recorded messages. The Totally Tactile Communicator offers six levels and 300 seconds of recording time.
For those on the go
Wearable tech is all the rage, so why be weighed down by a large or bulky device?
Wrist Talker #3037 and #3037B
This single-message communicator looks like a wristwatch and allows the user to record a 10 second greeting.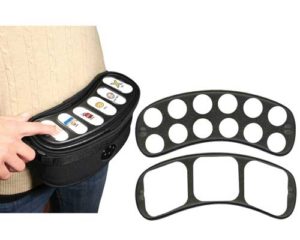 Hip Talk Plus #5020
This totally portable communicator, worn around the waist includes 300 seconds of recording time, auditory cueing and fantastic sound quality. Enabling Devices also sells two similar devices: the Hip Talk 12 with levels #5013, which enables the user to record 60 five-second messages and the Hip Talk #5004, which allows the user to record 4 five-second messages.
Small Talk with built-in icon holder #4201
A more portable version of our popular Big Talk, the small talk includes a special holder that displays an icon, word or photo.
Talk 4 with Levels #2500
This powerful communication device gives users access to 12 recording levels and 300 seconds of recording time. The Talk 4 offers single jack automatic scanning with LED illumination and three scanning speeds. Weighing less than one pound and equipped with an adjustable carrying strap, this communicator is both functional and portable!
For fun and learning
These communicators will help children to express themselves while they play.
Lego Communicators #1049D and #1049L Who doesn't love Lego? This one message communicator will motivate children to learn language while inspiring creativity.
Talking Bubble with Lights and Vibration #2230 This four-message recorder/player helps its user to communicate while also providing visual and tactile sensory experiences.
Brand new!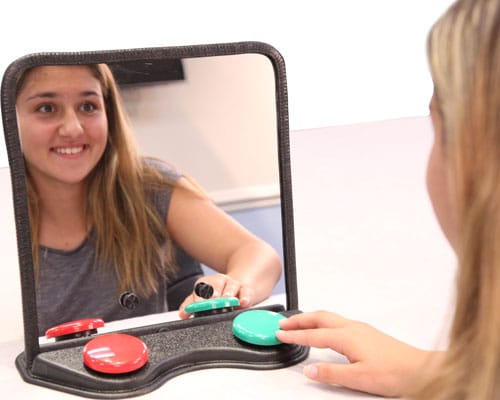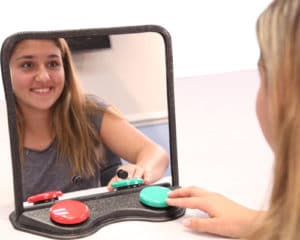 Hot off the press, our new Language Facilitator #5310 promotes functional communication. Mirror, mirror … This two switch communicator helps users learn to speak by recording and playing back their utterances. At the same time, the Language Facilitator's attached mirror provides users with an opportunity to see how their mouths move when making particular sounds.
iPads for communicating
When considering AAC devices, don't overlook the communication opportunities afforded by iPad technology. According to Andrew Leibs, writing for About Tech,
"Apps on portable devices such as the iPad, can help non-verbal children to communicate basic needs. Intuitive apps that employ colorful images and sounds can also hold a child's attention long enough to learn and offer effective tools to build vocabulary and reinforce word knowledge."
Enabling Devices' iPad Wireless Switches #1164 and #1167 provide access to hundreds of compatible apps available on your Bluetooth-equipped iPad, iPhone or Android device. Both switches have internal interfaces, so there's no need for wires.
Don't forget the iPad Mounting Systems!
Enabling Devices offers a Tabletop system #1589, which includes a mounting platform, designed for easy access to all of the iPad's electronic ports and a removable tabletop base to hold your iPad at just the right angle.
The Mounting System #1556 includes a mounting platform, an expandable light duty arm and a clamp with which you can mount the system to a wheelchair or tabletop. The iPad Mounting Platform #1566 can also be purchased separately.
A free chart of switch accessible apps can be found on our website.