At first glance, it looks like a piece of the paper mache' and mirror sculpture, "Os Saltimbancos" ("The Acrobats"), by Portuguese artist Jose' de Guimaraes, has broken off. The brightly colored fragment lies on the floor next to the sculpture (see image below). Yet, an inquiry with the gallery's security guard assures concerned museum goers that no, the sculpture isn't broken. Instead, the fragment is placed purposely next to the sculpture so that blind and visually impaired visitors can explore the work of art by touching it. The same is true for another sculpture in the same gallery, "Marcelino Vespeira's "O Menino Imperativo" (Imperative Boy") which is exhibited with a replica right next to it. Visitors are free to touch the much smaller replica.  Some original works can also be touched if the individual wears gloves.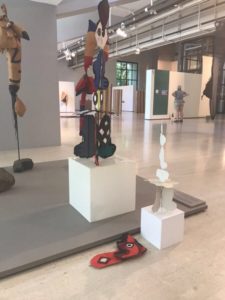 In the past decade or so, museums in the United States and around the world have boosted efforts to make their institutions more accessible and inclusive for people with disabilities.
Museum educators at Lisbon, Portugal's Calouste Gulbenkian Museum recently established a new tour especially for visually impaired and blind visitors to help them to experience the museum's visual art. Special needs educator Margarida Rodrigues says the program for the blind is just one of the programs the museum offers for people with special needs. "We started by offering programs for people with mental illness," says Rodrigues. Nowadays, the museum also offers programming for people who are blind, deaf, have cerebral palsy, autism and intellectual disabilities.
A partner of the Tandem Project, The Calouste Gulbenkian Museum is one of seven institutions representing seven countries that "meet to test, develop and share tools and new approaches for people with disabilities to explore museums. The project aims to support better understanding of inclusivity in education and ability to creatively deal with diverse groups of learners with and without disabilities," according to Tandem's website.
Rodrigues says the activities that she and Margarida Vieira, who oversees the activities program for the public with disabilities, offer for museum visitors "always kick off with a work of art." Depending on the nature of visitors' disabilities, activities may include a mix of drawing, movement, auditory and tactile experiences. Rodrigues says that the museum educators often use sound with visitors with cerebral palsy. "We ask 'can sound have color? Can we grab sound?' Feeling vibration is wonderful for people with CP. They relax, can control and mix sound, create an orchestra tech sound."
The museum's disability program helps visitors with disabilities "gain comfort in the museum… express themselves… and explore issues of identity and body image," says Rodrigues. Perhaps most importantly, the program provides visitors with disabilities an opportunity to have fun!