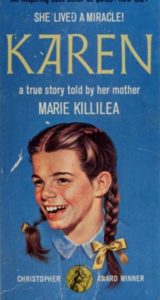 In March 2017, to celebrate Cerebral Palsy Awareness Month, Enabling Devices paid tribute to Karen Killilea and her mother Marie Killilea in a blogpost about Marie's New York Times best-selling books, "Karen," and "With Love from Karen." The books, written in 1952 and 1963 respectively, tell the true story of Karen, a girl with cerebral palsy and her trials, tribulations and triumphs in an era when little was known about the condition and many in the medical field believed children like Karen should be institutionalized and kept apart from their families.
On December 18, 2020, the New York Times published Karen Killilea's obituary. She died Oct. 30, 2020, in Port Chester, New York, at the age of 80. As Karen's sister Kristin Viltz told the New York Times, the cause of her death was "a respiratory condition that led to heart failure."
Karen was born in 1940 to Marie, a homemaker and James, a telephone company executive who lived in Rye, New York. At the time of her birth, Karen was three months premature and weighed less than two pounds. As she failed to reach developmental milestones, Karen's parents consulted with doctors who were overwhelmingly pessimistic about the baby girl's prognosis. According to Marie Killilea's 1991 obituary, doctors told her and her husband James that their daughter's 'case was hopeless.' They said that 'Karen had no intellect, could never learn to walk or communicate with others.' But Marie knew they were wrong."
Indeed, Karen, who was finally diagnosed with CP at the age of 3, went on to achieve a great many things. Through a rigorous training regimen conducted by her mother, Karen learned to walk with crutches (though she eventually switched to using a wheelchair), swim, and attended a local Catholic school. She worked for many years as a receptionist at a Catholic retreat center, was a dog obedience trainer and lived independently throughout her adult life. Her mother's books and Karen's accomplishments brought hope to millions of families with disabled children.
In addition to her best-selling books, Marie was a tireless advocate for people with cerebral palsy. She founded the Cerebral Palsy Association of Westchester County as well as a national CP organization that later became United Cerebral Palsy.
These organizations have a special connection to Enabling Devices. It was during a consulting position with UCP in Nassau County, Long Island, in 1974, that our founder Steven Kanor first became aware of the need for adaptive toys. As Steve's 2015 obituary reads: "Upon arriving at UCP, he was amazed to find that the children had some basic biofeedback equipment, but no toys. "Toys," he said, "are children's tools. Without them they cannot grow and develop. Play is the job of childhood."
Four years later, Steve founded Toys for Special Children (now Enabling Devices), "a business devoted to providing children with disabilities 'maximum delight' while at the same time helping to develop cognitive and mobility skills."
To this day, Enabling Devices enjoys a special relationship with Cerebral Palsy of Westchester (CPW). Therapists at CPW routinely share their expertise and test our toys with their students. In fact, occupational therapist Tina Weisman, a longtime CPW employee, private practitioner and doctoral candidate recently joined Enabling Devices as a consultant for new product design, telehealth and online learning.
Looking for a great read during the cold weather months? Pick up one of Marie's books. She also wrote "Wren" an abridged version of Karen's story for children in 1981.  "Karen" and "With Love from Karen," are available on eBook and used print copies may be found on eBay and elsewhere online.