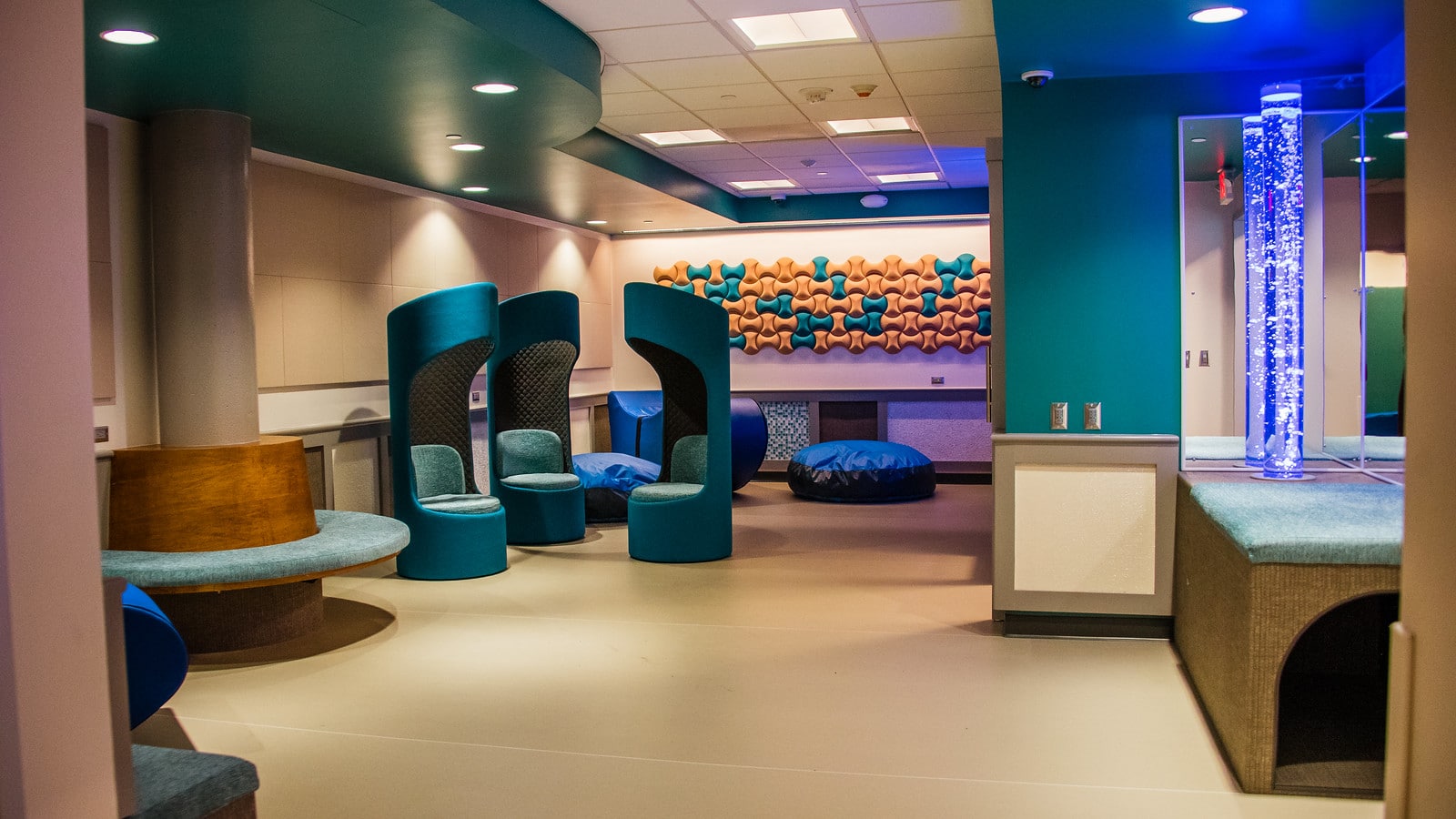 1. Touch textured wall panels for tactile and visual experiences
2. Use small sensory balls to get hands and fingers moving
3. Jump on mats to work on gross motor skills or for calming and organizing
4. Sit on a comfy chair for calming and relaxing
5. Rock or bounce on a therapy ball for core strengthening and to improve balance
6. Roll across the room on a mat for whole body sensory input
7. Blow bubbles for visual input and for improving eye tracking.
8. Sit in front of a bubble tube to improve visual perception and eye tracking and to increase relaxation
9. Lay on a mat and drape fiber optic lighted across your body for a soothing and relaxing experience. Also great for providing a visual and tactile experience
10. Sit in a tent for cooling down
11. Jump in a ball pool for a multisensory experience – tactile, visual, gross motor
12. Snuggle with a weighted blanket for calming and proprioceptive input
13. Sit with a weighted gel lap pad for help with fidgeting or for calming and relaxing
14. Put a vibrating tube around your neck, arm, leg or waist for help with relaxation or for stimulation.
15. Give a massage with a vibrating massager for great proprioceptive input
16. Hug a vibrating stuffed animal for a sense of security and for calming
17. Lay down or sit on a crash pad and watch the stars on the ceiling projected from a Laser Star or Star Theater Pro
18. Place an LED Light Illuminator on your lap and watch the slowly‐changing colors for a mesmerizing experience
19. Squeeze a vibrating pillow to release energy and receive vibro‐tactile input
20. Listen to music from a soft, lighted plush toy – Charley Chameleon, BeeBop or Shelly Seahorse
21. Have fun pushing the soft gel around in Gel Mats. Great for fine motor development as well as for calming
22. Have a dance party with a lighted disco ball