This chart contains a sampling of switch accessible educational apps. It does not list every app available. New apps are developed every day. No warranty is made about the accuracy or completeness of the information on this chart. Customers should consult the Apple App Store for detailed information about the apps. Switch accessible AAC apps are not included in this chart.
Updated 7/11/2023
© 2023 Enabling Devices/Ten Educational Apps for Students with Special Needs
Educational Apps For Special Needs Students
App
Clicker Docs

Price
Varies. Home and School Licenses Available
App Description
Simple word processing app that helps children with all types of disabilities create effective writing pieces. Apps available for Windows, Mac, iPad and Chromebook
Features/Skills
• Child friendly and accessible keyboard
• Writing review with speech
• Word predication and word banks with verbal cues
App
How Do You Know?

App Description
Helps students improve critical thinking and verbal reasoning skills by answering who, what, when, where and how questions. Available for Android, iPad and iPhone
Features/Skills
• Ten categories including: places,
activities, emotions, animals, occupations and more
• Audio and visual prompts
• Different levels of difficulty
App
Learn with Rufus

App Description
Company has six different apps: Group and Categories Feelings and Emotions Boy & Girls Numbers & Counting Fun and Games Color, What?
Features/Skills
Different apps teach emotions, grouping, counting and comparing quantities, colors and more. Rufus is a friendly character with an engaging approach to learning.
App
Let's Expand Vocabulary

App Description
Designed for children with speech and language difficulties, specifically word retrieval difficulties and/or expressive language delays
Features/Skills
Four simple ways to play mini games with clearly spoken words that help children remember and categorize them through repetition. Activities are: Odd One Out, Matching Pairs, Categorization and Add Another One.
App
Match & Find

Vendor
Special iApps C.I.C.
Price
50 Euros for an Annual Membership
App Description
Activities to improve memory, language and fine motor skills
Features/Skills
• Range of activities to develop memory, matching, searching and sequencing skills
• Visually clear and simple
• Support for those with poor fine-motor skills
App
Montessori Numbers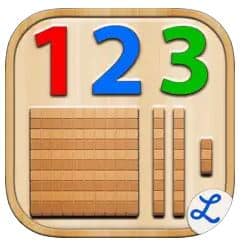 App Description
Teaches basic math skills. Helps students understand the relationship between numbers and the quantities they stand for.
Features/Skills
Sequence of guided activitites that builds on each skill: counting to 999, learning quantitites, decimals, numerical orders, tracing numbers and more. Great for visual learners with touch buttons and ability for a student to move things on the screen to count numbers, move blocks and do other simple tasks.
App
Peek & Seek

App Description
Designed to promote visual discrimination
Features/Skills
Activities that emphasize fundamental visual skills such as figure/ground, closure, and form constancy. Unique color palette for children with various color perception issues.
App
The Sounding Out Machine

App Description
Assistive reading device helps children focus on challenging words in their books and models how to sound out those words.
Features/Skills
Three modes:
• Camera mode to take photo of book page
• Library mode – load previous photos
• Typing mode – type in a word Extensive dictionary with more than 80,000 words
App
Speech Blubs: Language Therapy

Price
Free trial, then monthly subscription of $4.99
App Description
Voice-controlled speech therapy app designed to help children learn new sounds and words and practice speaking
Features/Skills
• 1500+ activities to trigger sound and word production
• Voice-activated functionality for a fun, interactive learning experience.
• 24 fun sections such as shapes, colors, food, sounds, animals, sing along and more
App
Super Why! Power to Read

App Description
Teaches reading with characters from the popular PBS show Super Why
Features/Skills
Ten stories to read. Four unique games
teach letter identification, letter sounds, rhyming, writing and reading comprehension.